Taiwan shares surge as TSMC rebounds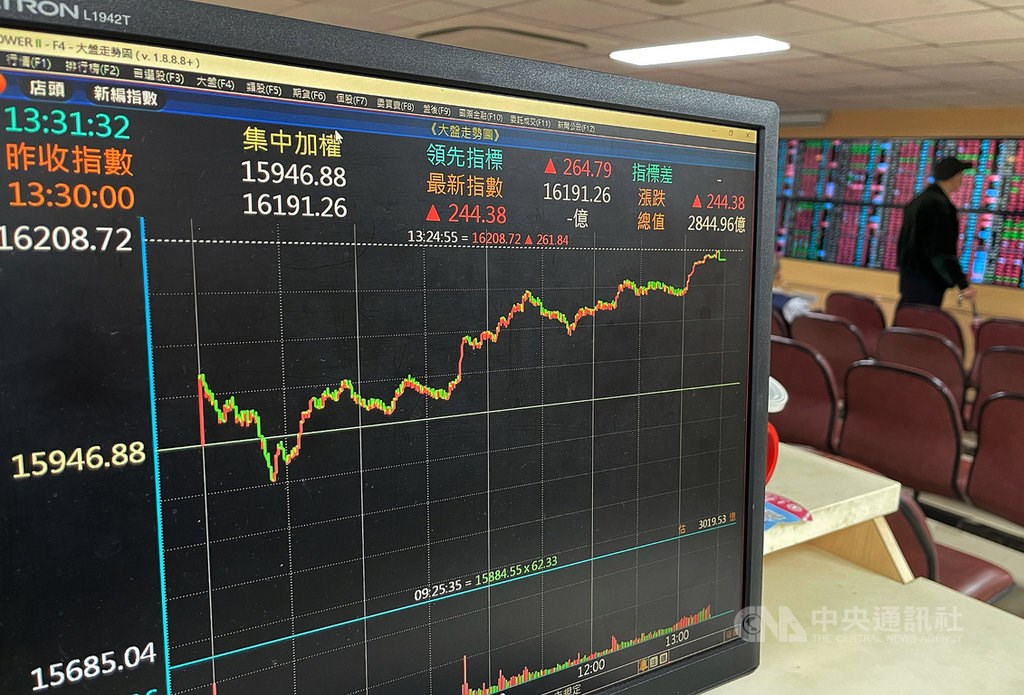 Taipei, March 3 (CNA) Shares in Taiwan closed sharply higher Wednesday, with contract chipmaker Taiwan Semiconductor Manufacturing Co. (TSMC) recovering from its earlier losses, as investors shrugged off a plunge in U.S. tech stocks overnight, dealers said.
In a market awash in liquidity, buying was also seen among old economy and financial stocks throughout the session, lending additional support to the broader market, dealers said.
The Taiex, the weighted index on the Taiwan Stock Exchange (TWSE), ended up 264.85 points, or 1.66 percent, at the day's high of 16,211.73 after coming off a low of 15,884.55. Turnover totaled NT$302.23 billion (US$10.86 billion) during the session.
The market opened up 0.28 percent but soon fell into negative territory before buying reemerged with TSMC in focus, as investors ignored a 1.7 percent dive of the tech-heavy Nasdaq index overnight, dealers said.
The momentum accelerated in the afternoon session, pushing the Taiex past the 16,200-mark by the end of the session, after a fluctuation of more than 320 points, according to dealers.
TSMC, the most heavily weighted stock on the local market, rose 2.13 percent to close at NT$622.00, coming off a low of NT$601.00. Led by TSMC's gains, the semiconductor sub-index gained 1.79 percent to end at 417.00, off a low of 404.13.
"After consolidating in recent sessions, TSMC shares seemed to find strong technical support today at around NT$600.00," Hua Nan Securities analyst Lu Chin-wei said. "Judging from TSMC's movement, I think many bargain hunters agreed that the stock had reached a good buying point."
Before Wednesday's rebound, TSMC had dropped 6.6 percent from its closing price of NT$652.00 on Feb. 19.
"TSMC has strong fundamentals, and based on its efforts to expand capacity, it is expected to see significant growth in its advanced 5 nanometer process in the second half of the year," Lu said. "The stock, however, could still encounter stiff technical resistance at NT$660-NT$680."
Buying among other semiconductor stocks was uneven, with smartphone chip designer MediaTek Inc. gaining 3.33 percent to close at NT$930.00, and memory chip supplier Nanya Technology Corp. dropping 3.66 percent to end at NT$92.00.
Multimedia control IC designer ASMedia Technology Inc. rose 2.67 percent to end at NT$1,730.00, while United Microelectronics Corp., a smaller contract chipmaker, fell 1.52 percent to close at NT$51.90.
Also in the bellwether electronics sector, iPhone assembler Hon Hai Precision Industry Co. rose 3.13 percent to close at NT$115.50, and Largan Precision Co., a supplier of smartphone camera lenses to Apple Inc., finished 2.84 percent higher at NT$3,440.00.
"The equity market continued to benefit from high liquidity, as foreign funds kept flowing into Taiwan, so investors sitting on large funds also rushed to pick up stocks of old economy companies that produce raw materials," Lu said.
He said the petrochemical sector attracted lots of market attention, rising 1.81 percent on a recent spike in international crude oil prices.
Formosa Petrochemical Corp. rose 3.09 percent to close at NT$100.00, Formosa Plastics Corp. gained 2.85 percent to end at NT$101.00, Formosa Chemicals & Fibre Corp. added 1.85 percent to close at NT$87.90, and Nan Ya Plastics Corp. finished 1.36 percent higher at NT$74.80.
Lu said the paper sector was boosted by a hike in product prices, with Longchen Paper & Packaging Co. rising 5.24 percent to close at NT$25.10, and YFY Inc. climbing 3.51 percent to end at NT$28.00.
In the financial sector, which benefited from its relatively low valuation to rise 1.18 percent, Fubon Financial Holding Co. climbed 1.80 percent to close at NT$51.00, Yuanta Financial Holding Co. gained 1.66 percent to end at NT$21.40, and Cathay Financial Holding Co. added 1.55 percent to finish at NT$42.55.
"After today's strong gains, the main board has become technically healthier, as the major local market players appeared more willing to buy," Lu said.
"But the nearest technical resistance is expected ahead of 16,579, which was the intraday high on Feb. 22."
According to the TWSE, foreign institutional investors bought a net NT$14.11 billion worth of shares on the main board Wednesday.