Taiwan shares recoup early losses to end up; IC sector falls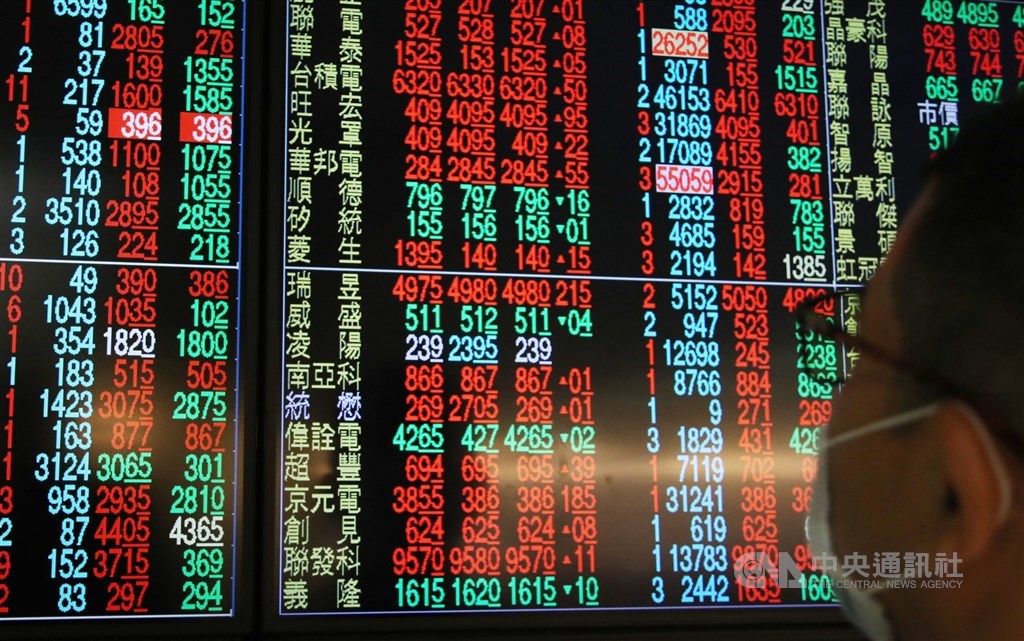 Taipei, Feb. 23 (CNA) Shares in Taiwan closed slightly higher Tuesday, recovering from early losses caused by selling in large-cap semiconductor stocks, in a market awash in liquidity, dealers said.
While contract chipmaker Taiwan Semiconductor Manufacturing Co. (TSMC) led the integrated circuit sector to move lower throughout the session, buying rotated to old economy and financial stocks, as investors with large funds sought a safe haven to park their money, dealers added.
The Taiex, the weighted index on the Taiwan Stock Exchange (TWSE), ended up 33.24 points, or 0.20 percent, at 16,443.40, after moving between 16,211.75 and 16,467.75. Turnover totaled NT$367.03 billion (US$12.66 billion) during the session.
The market opened down 0.54 percent and soon dipped to the day's low, falling almost 200 points in the early morning session, as investors took cues from a 3.77 percent plunge on the Philadelphia Semiconductor Index overnight, dealers said.
As the Taiex moved closer to the 16,200-point mark, however, buying in non-tech stocks emerged, offsetting the losses suffered by semiconductor heavyweights and helping the broader market to end above its previous closing level, dealers added.
"Despite the fall in big tech stocks such as TSMC, the Taiex managed to show some gains at the end, as high liquidity sparked rotational buying today, mainly in the non-tech sector," Mega International Investment Services Corp. analyst Alex Huang said.
The semiconductor sub-index closed down 1.12 percent, with TSMC, the most heavily weighted stock on the local market, falling 1.38 percent to close at NT$641.00 after its American depository receipts (ADRs) dropped 2.26 percent in the United States overnight.
Other large cap IC stocks also came under pressure due to their ADR losses. United Microelectronics Corp., whose ADRs fell 4.53 percent overnight, closed 1.76 percent lower at NT$55.80, while IC packaging and testing services provider ASE Technology Holding Co. ended down 1.79 percent at NT$110.00 after its ADRs lost 4.45 percent.
"These IC stocks, which had been high-flyers in recent sessions, are now facing headwinds amid rising bond yields, as higher interest rates could affect stocks like TSMC that have a high price to earnings ratio," Huang said.
Memory chip stocks, however, were lifted by rising product prices, with Nanya Technology Corp. gaining 1.34 percent to close at NT$98.40, and rival Winbond Electronics Corp. ending up 2.59 percent at NT$31.70.
In addition, Largan Precision Co., a supplier of smartphone camera lenses to Apple Inc., rose 1.14 percent to close at NT$3,550.00, after proposing Monday a record high cash dividend of NT$91.5 per share on its 2020 earnings per share of NT$182.9.
Buying rotated to raw material stocks, including the petrochemical sector, which got a boost from a spike in international crude oil prices overnight, Huang said.
Among the gaining petrochemical stocks, Formosa Chemicals & Fibre Corp. rose 2.52 percent to end at NT$85.40, Formosa Plastics Corp. added 2.68 percent to close at NT$99.70, and Nan Ya Plastics Corp. gained 3.07 percent to finish at NT$73.80.
In the textile sector, which is also crude-price sensitive, Far Eastern New Century Corp. rose 2.37 percent to close at NT$28.10, and Eclat Textile Co. added 3.40 percent to end at NT$440.50.
Elsewhere in the raw material industry, China Steel Corp., the largest steel maker in Taiwan, rose 3.48 percent to close at NT$25.30, and Yieh Hsing Enterprise Co. soared 5.23 percent to end at NT$9.26.
"Higher interest rates cut both ways, however," Huang said. "Financial stocks are favored, which could strengthen their profitability, lending additional support to the broader market."
In the financial sector, which rose 1.37 percent, Fubon Financial Holding Co. gained 1.63 percent to close at NT$49.75, and Cathay Financial Holding Co. added 1.55 percent to end at NT$42.70.
"I think the liquidity-driven uptrend will continue, but the gains could be slow, if the high-tech sector pauses," Huang said, adding that he anticipated the nearest technical resistance at around 16,550 points.
According to the TWSE, foreign institutional investors bought a net NT$4.25 billion worth of shares on the main board Tuesday.