Taiwan shares end down but come off low after U.S. volatility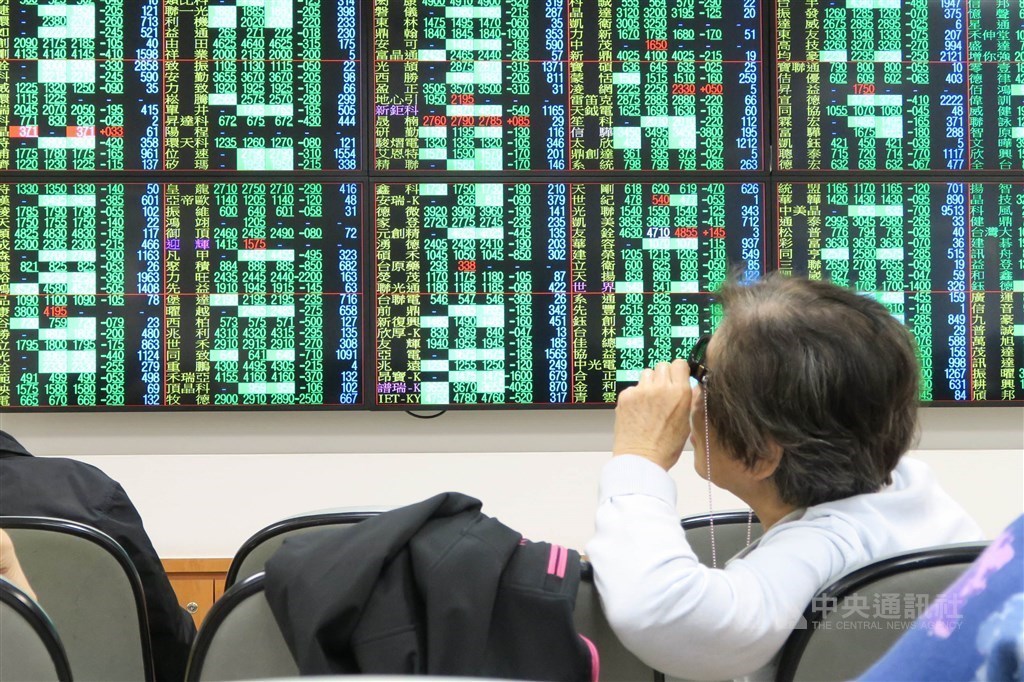 Taipei, Oct. 27 (CNA) Shares in Taiwan closed moderately lower Tuesday after recovering from a low amid dampened market sentiment in the wake of a plunge on Wall Street overnight following a surge in COVID-19 cases in the United States, dealers said.
Bargain hunting on the local main board emerged during the session, making the bellwether electronics sector resilient, while buying rotated to select old economy stocks which helped the broader market stabilize, they said.
The weighted index on the Taiwan Stock Exchange (TWSE) or the Taiex ended down 34.02 points, or 0.26 percent, at 12,875.01, after moving between 12,821.07 and 12,884.32, on turnover of NT$157.37 billion (US$ 5.5 billion).
The market opened down 0.31 percent and soon fell to the day's low with investors shocked by the 2.3 percent fall suffered by the Dow Jones Industrial Average Monday on news that the number of COVID-19 cases in the U.S. rose to a daily average of 68,767 over the past seven days, a record high, dealers said.
With the Taiex falling and moving closer to 12,800 points, some investors shifted to the buy side to pick up large cap stocks in both the electronics and non-tech sectors, helping the index come off the day's low by the end of the session, they said.
"I am little surprised by today's performance in which the Taiex did not follow the Dow's plunge but managed to recover from its low," Hua Nan Securities analyst Lu Chin-wei said.
"I suspect some of the buying came from government-led funds aiming to prop up market confidence at a time when the local equity market has been bothered by external factors such as the spike in COVID-19 cases and the upcoming presidential vote in the U.S.," Lu said.
Due to bargain hunting, the electronics sector appeared resilient throughout the session, Lu added.
"The tech sector as well as the main board has moved in consolidation mode in recent sessions so downward pressure has been reduced quiet a lot," Lu said.
Among the large cap tech stocks which recovered from lows, contract chipmaker Taiwan Semiconductor Manufacturing Co. (TSMC), the most heavily weighted stock on the local market, fell 0.67 percent to close at NT$447.00, after hitting a low of NT$445.50.
iPhone assembler Hon Hai Precision Industry Co. lost 0.25 percent to close at NT$80.00, off a low of NT$79.40, and Largan Precision Co., a supplier of smartphone camera lenses to Apple Inc., dropped 0.94 percent to end at NT$3,165.00, off a low of NT$3,145.00.
Some tech stocks even bucked the downturn on the broader market, dealers said. Among them, United Microelectronics Corp., a smaller rival to TSMC, rose 1.52 percent to close at NT$33.50, and integrated circuit designer MediaTek Inc. gained 1.63 percent to end at NT$685.00.
PC brands were lifted by rising demand on the back of the booming stay at home economy with Acer Inc. up 1.43 percent to close at NT$24.90, and Asustek Computer Inc. up 0.40 percent to end at NT$248.50.
"Select old economy stocks benefited from rotational buying as the local market remained awash in liquidity," Lu said.
Among them, textile maker Makalot Industrial Co. gained 1.07 percent to close at NT$189.50, and Tung Ho Steel Corp. added 0.50 percent to end at NT$29.90. Taita Chemical Co. even rose 10 percent, the maximum daily increase, to close at NT$34.65 due to a hike in acrylonitrile butadiene styrene (ABS) prices.
In the paper sector, which also saw product prices rising, Chung Hwa Pulp Corp. rose 2.12 percent to close at NT$9.65, and Cheng Loong Corp. gained 5.37 percent to end at NT$35.35.
In the financial sector, which moved lower in line with the Taiex, Cathay Financial Holding Co. fell 0.90 percent to close at NT$38.60, and Fubon Financial Holding Co. lost 0.96 percent to end at NT$41.30.
"Before the U.S. presidential vote, I expect many foreign institutional investors will continue to stay away from the trading floor. The electronics sector and the broader market are expected to keep moving within a narrow range until Nov. 3," Lu said.
According to the TWSE, foreign institutional investors sold net NT$4.75 billion worth of shares on the main board Tuesday.