Taiwan shares drop slightly after spiking to 3-year high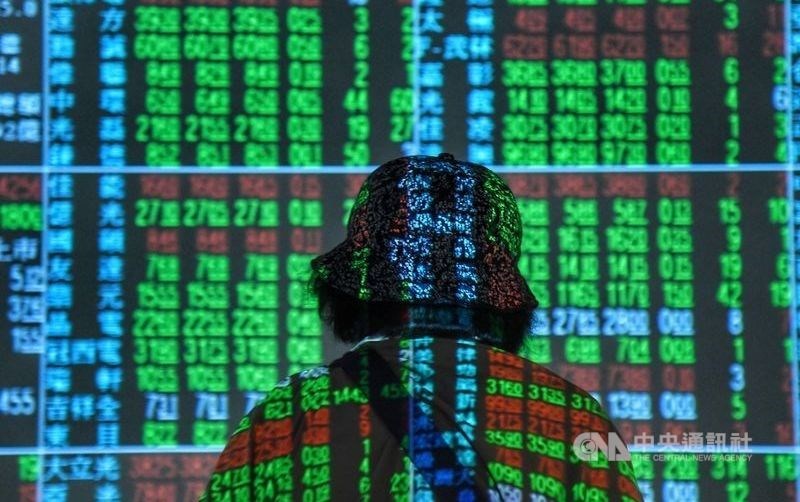 Taipei, July 7 (CNA) Shares in Taiwan ended down Tuesday, after soaring briefly to the highest level in three years, as investors rushed to lock in their gains from recent sessions, dealers said.
While selling was seen in petrochemical and other non-tech stocks, large-cap semiconductor shares stayed resilient, helping to prop up the broader market, dealers said.
The weighted index on the Taiwan Stock Exchange (Taiex) ended down 23.73 points, or 0.20 percent, at 12,092.97, after moving between 12,028.93 and 12,249.95. Turnover totaled NT$274.59 billion (US$9.32 billion) during the session.
The market opened up 0.50 percent on follow-through buying from the previous session, when the Taiex closed up 1.74 percent, and on a rally on United States markets Monday.
The local index soon soared to 12,249.95, the highest in three years, beating the Jan. 3 intraday high of 12,197, dealers said.
As investors began dumping old economy stocks, however, the gains on the broader market disappeared, and the main board ended slightly lower than the previous day, dealers said.
"There were some big technical hurdles ahead of the intraday high," Hua Nan Securities analyst Lu Chin-wei said. "It was not surprising that investors decided to pocket their recent gains amid worry over a major technical pullback."
Lu said that as the market remained awash in liquidity, and the drop was minor compared with the recent gain of 4.26 percent this month, prior to Tuesday, despite the economic effects of the COVID-19 pandemic.
"Many investors remained upbeat about liquidity driven gains down the road and seemed willing to hold onto large-cap tech stocks such as Taiwan Semiconductor Manufacturing Co. (TSMC), which helped to offset the selling in the non-tech sector," he said.
TSMC, the most heavily weighted stock on the local market, rose 0.15 percent to close at NT$338.50, off a high of NT$346.00, after its American depositary receipts hit a record high overnight.
Led by TSMC, the semiconductor sub-index rose 0.24 percent, with integrated circuit designer MediaTek Inc. gaining 4.92 percent to end at NT$618.00, and memory chipmaker Nanya Technology Corp. ending 1.00 percent higher at NT$87.00.
Also in the tech sector, iPhone assembler Hon Hai Precision Industry Co. rose 0.69 percent to end at NT$87.00, and PC brand Asustek Computer Inc. closed up 1.37 percent at NT$221.50, while smartphone camera lens supplier Largan Precision Co. fell 0.11 percent to end at NT$4,405.00.
In the old economy sector, Formosa Plastics Corp. fell 0.83 percent to close at NT$83.70, Formosa Petrochemical Corp. dropped 0.78 percent to end at NT$88.90, and food brand Uni-President Enterprises Corp. ended 0.81 percent lower at NT$73.20.
The financial sector, meanwhile, finished mixed, with CTBC Financial Holding Co. ending up 0.71 percent at NT$21.20, while Fubon Financial Holding Co. closed unchanged at NT$43.30, and Cathay Financial Holding Co. dropped 0.73 percent to end at NT$40.95.
"The Taiex may see more selling, but with the high liquidity, investors are likely to switch to buying when the index falls to the 20-day moving average of 11,650 points," Lu said.
According to Taiex data, foreign institutional investors bought a net NT$4.57 billion worth of shares on the main board Tuesday.