Taiwan shares boosted by U.S. stimulus package hopes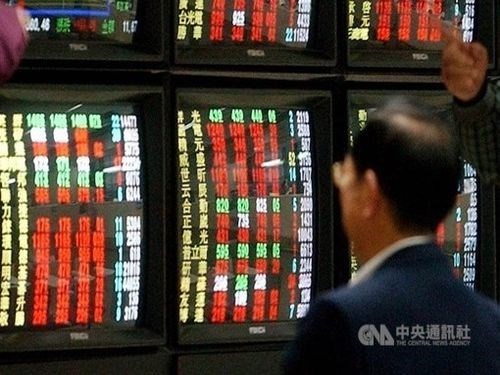 Taipei, March 25 (CNA) Shares in Taiwan moved sharply higher Wednesday as investors were encouraged by a strong showing on U.S. markets overnight amid rising hopes that the U.S. Congress will soon pass a US$2 trillion stimulus package to combat the COVID-19 coronavirus pandemic, dealers said.
Large-cap stocks across the board rode the wave of optimism toward the U.S. stimulus plan as investors took cues from a more-than 11 percent increase on the Dow Jones Industrial Average a day earlier, pushing up the main board by almost 4 percent, the dealers said.
The weighted index on the Taiwan Stock Exchange (TWSE), or Taiex, closed up 359.13 points, or 3.87 percent, at 9,644.75, after moving between 9,426.43 and 9,722.37, on turnover of NT$182.99 billion (US$6.05 billion).
The market opened up 1.52 percent in reaction to the Dow's upturn, the biggest one-day percentage gain since 1933, and momentum on the local main board accelerated, with buying focusing on market heavyweights such as contract chipmaker Taiwan Semiconductor Manufacturing Co. (TSMC), which vaulted the Taiex past the 9,700-point mark before some profit-taking emerged to cap the gains, the dealers said.
"Since an intraday low of 8,523 points Wednesday, the Taiex bounced back significantly, so it came as no surprise that the Taiex came off its high today as some investors just wanted to keep cash on hand for the moment," Ta Chan Securities analyst Jerry Chen said.
Chen attributed Wednesday's gains to the expectations of the passage of the U.S. stimulus package, with lawmakers in Washington coming closer to cutting a deal about the stimulus measures.
"The package, along with the U.S. Federal Reserve's unlimited quantitative easing, is expected to prevent enterprises from closure and keep workers on the payrolls," Chen said. "That is expected to boost consumption, a positive step to keep the U.S. economy rolling."
"Therefore, the Dow soared and markets in the regions, including Taiwan, followed suit," he said. Chen said the electronics sector continued to dominate the local main board throughout the session, led by TSMC, which followed an almost 8 percent increase in its American depositary receipts overnight, rising 3.55 percent to close at NT$277.00.
TSMC's gains pushed up the entire tech sector and the semiconductor sub-index by 3.81 percent and 3.76 percent.
Also in the electronics sector, iPhone assembler Hon Hai Precision Industry Co., second to TSMC in terms of market capitalization, gained 2.88 percent to close at NT$71.40 and Largan Precision Co., a supplier of smartphone camera lenses to Apple Inc., added 6.14 percent to end at NT$3,890.00, while memory chipmaker Nanya Technology Corp. rose 8.90 percent to close at NT$52.00.
Buying was also seen among old economy stocks, with the petrochemical and textile sectors in focus on the back of a rebound in international crude oil prices, the dealers said.
Among them, Nan Ya Plastics Corp. rose 7.74 percent to close at NT$55.70, Formosa Plastics Corp. gained 6.24 percent to end at NT$74.90, and Eclat Textile Corp. soared 10 percent, the maximum daily increase, to close at NT$243.00.
The dealers said the financial sector benefited from its relatively low valuation and played catch-up, rising 3.73 percent.
In the sector, CTBC Financial Holding Co. rose 5.42 percent to close at NT$17.50, Fubon Financial Holding Co. added 2.34 percent to end at NT$37.10 and Cathay Financial Holding Co. gained NT$1.88 percent to close at NT$35.30.
"Since the Dow has been oversold, I think its rebound will continue, paving the way for further gains on the local main board," Chen said. "However, since there is no sign that the COVID-19 virus will ease anytime soon, the Taiex could face stiff technical resistance ahead of 10,000 points."
Despite the gains in the Taiex, foreign institutional investors sold a net NT$2.29 billion-worth of shares on the main board Wednesday.