Taiwan shares close up on gains in U.S. markets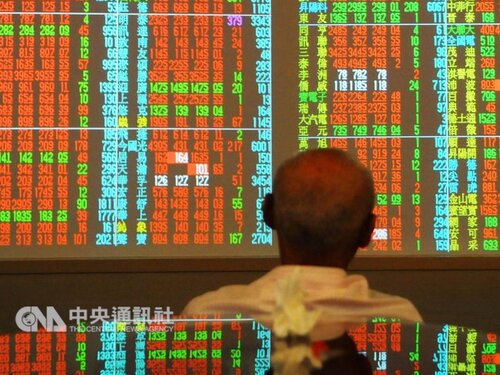 Taipei, Nov. 18 (CNA) Shares in Taiwan moved higher Monday as investors were encouraged by a strong showing by U.S. markets over the weekend on the back of rising optimism toward a trade deal between the United States and China, dealers said.
While the bellwether electronics sector continued to help the broader market move forward, turnover remained thin, with many investors staying on the sidelines amid concerns that the local main board will suffer a major pullback following solid gains in recent sessions, the dealers said.
The weighted index on the Taiwan Stock Exchange (TWSE), or Taiex, closed up 74.18 points, or 0.64 percent, at the day's high of 11,599.78 after coming off an early low of 11,532.97, on turnover of NT$108.46 billion (US$3.56 billion).
The market opened up 0.16 percent on follow-through buying from a session earlier, in which the Taiex ended up 0.66 percent, as investors took cues from gains posted in the U.S. markets, where the Dow Jones Industrial Average breached 28,000 points for the first time, in the wake of optimism over the U.S.-China trade issue, the dealers said.
The Taiex moved in a narrow range for most of the session before buying escalated in the late trading session, led by large-cap stocks such as contract chipmaker Taiwan Semiconductor Manufacturing Co. (TSMC), which pushed up the main board to the day's high at the end of the session.
"The U.S. markets again served as an indication for investors here to pick up local shares at a time when the local equity market remained awash in foreign fund inflows," Hua Nan Securities Investment Management Chairman David Chu said. "A positive development in global trade helped the local main board to move ahead."
According to China's state media Xinhua, Chinese Vice Premier Liu He (劉鶴) spoke Saturday with U.S. Treasury Secretary Steven Mnuchin and U.S. Trade Representative Robert Lighthizer about a "phase-one" trade deal. The report said the two sides had "constructive discussions" about "each other's core concerns" and agreed to remain in close contact.
"I think foreign institutional investors stayed on the buy side today and kept buying into Taiwanese large-cap stocks, " Chu said.
According to the TWSE, foreign institutional investors bought a net NT$3.12 billion-worth of shares on the main board Monday after a net buy of NT$4.26 billion a session earlier.
Chu said that with foreign institutional buying continuing to focus on large-cap stocks in the electronics sector, TSMC, the most heavily weighted stock in the local market, rose 1.30 percent to close at the day's high of NT$311.00, with 18.63 million shares changing hands.
TSMC's gains contributed an increase of about 40 points to the Taiex, and led the bellwether electronics sector and the semiconductor sub-index to move up 0.86 percent and 1.19 percent, respectively.
Chu said TSMC's buying also spread to other integrated circuit (IC) stocks, with memory chip makers Nanya Technology Corp. up 3.04 percent to close at NT$71.10 and Winbond Electronics Corp. up 4.62 percent to end at NT$17.00 on reduced concern over a global supply glut. Bucking the upturn, however, IC designer MediaTek Inc. fell 0.59 percent to close at NT$419.50.
Also in the electronics sector, iPhone assembler Hon Hai Precision Industry Co. added 0.44 percent to close at NT$90.50 and Largan Precision Co., a supplier of smartphone camera lenses to Apple Inc., also rose 0.11 percent to end at NT$4,505.00.
Dealers said the ample liquidity also boosted non-tech stocks, lending additional support to the broader market.
Among the gaining old economy stocks, food brand Uni-President Enterprises Corp. rose 1.23 percent to close at NT$73.90 and Taiwan Cement Corp. added 0.96 percent to end at NT$42.10.
In the financial sector, which rose 0.58 percent, E. Sun Financial Holding Co. rose 0.92 percent to close at NT$27.50 and Fubon Financial Holding Co. gained 0.66 percent to end at NT$45.60.
"Despite the gains in the Taiex, trading volume was thin, as many investors feared that the main board will see a major technical retreat after recent solid gains," Chu said. "To me, many stocks have been overvalued, but high liquidity could limit any losses caused by technical corrections."
Before Monday's upturn, the Taiex had gained 5.73 percent since the beginning of October. In October alone, the Taiex soared 4.89 percent on eased global trade tensions.