Taiwan-Hong Kong flights canceled due to airport protests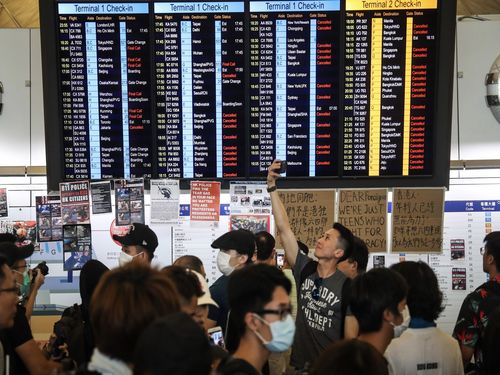 Taipei, Aug. 12 (CNA) Air traffic between Taiwan and Hong Kong has been paralyzed after thousands of Hong Kong pro-democracy protesters flooded Hong Kong's airport Monday afternoon, leading to the suspension of all remaining flights into Tuesday morning.
Because of the suspension of the Hong Kong airport's operations, announced at around 4 p.m., a total of 40 Taiwan-Hong Kong flights will have been canceled by midnight Monday, according to Taiwan Taoyuan International Airport Co.
Eight more flights between Taichung and Hong Kong and five between Kaohsiung and Hong Kong, will have been canceled by 8 a.m. Tuesday, Taiwan's Civil Aeronautics Administration (CAA) said.
The Hong Kong airport authority said in a statement that all departing and arriving flights were canceled for the rest of Monday except for departure flights that completed the check-in process and arrivals already headed to Hong Kong.
"Airport operations at Hong Kong International Airport have been seriously disrupted, all flights have been canceled. All passengers are advised to leave the terminal buildings as soon as possible," the statement said.
Taiwanese airlines, meanwhile, have announced flight cancellations to and from Hong Kong for Tuesday due to the incident.
China Airlines said it has canceled flight CI922 from Hong Kong to Taoyuan, while EVA Airways said it has canceled flights BR891, BR851, and BR867 from Taoyuan to Hong Kong (scheduled to depart at 7 a.m., 8:15 a.m. and 10:20 a.m., respectively) and BR828, BR892, BR852, BR868 from Hong Kong to Taoyuan.