Northern Taiwan property market improves in July: survey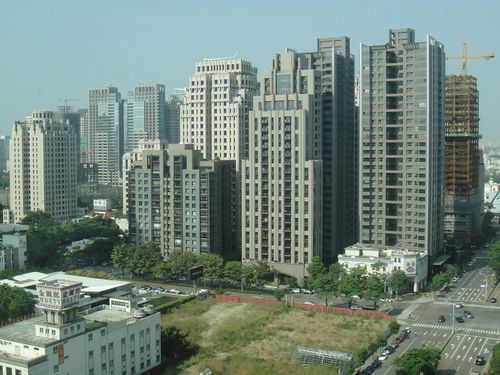 Taipei, Aug. 10 (CNA) The property market in northern Taiwan improved in July but still remained somewhat sluggish for the fifth consecutive month, according to a monthly index produced by real estate magazine My Housing.
The housing index for northern Taiwan rose by 5.1 points from a month earlier to 37.3 in July, the highest level in five years, but the index remained between 32 and 42 to flash a "yellow blue" light, signaling sluggish growth.
Under the magazine's color-coded system, a red light indicates overheating, yellow-red shows fast growth, green represents stable growth, yellow-blue signals sluggish growth, and blue indicates contraction.
The index covers major counties and cities in northern Taiwan -- Taipei, New Taipei, Keelung, Taoyuan, and Hsinchu cities and Hsinchu and Yilan counties -- which account for more than 50 percent of total residential and commercial property transactions in the country.
Out of the six factors in the index, the sub-index on transactions grew the fastest, rising 2.35 from June to hit 7.04, the My House survey found.
Ho Shih-chang (何世昌), a research manager at the magazine, said the spike in transactions resulted from property developers launching new housing projects to stir up buying interest.
The higher transactions reflected an increase in visits by potential buyers to see homes during the month, as the sub-index for such visits rose by 1.16 from June to 6.92 in July, according to the survey.
The sub-index for new listings of presale residential property projects also rose significantly to 8.72 in July from 7.63 in June, reflecting the many new presale properties on offer.
According to the magazine, the value of the presale housing projects that came on the market in July topped NT$70 billion, with projects valued at NT$1.5 billion or higher most commonly seen in Taipei, New Taipei and Taoyuan.
Similarly, the sub-index on the listings of newly built residential properties registered an increase to 5.27 in July from June's 4.44.
Ho said home buyers right now are more likely to be investors rather than people looking for a place to live in, and they generally prefer to buy presale housing projects over existing homes.
In July, the sub-index for home price negotiations stayed unchanged at 5.46, while the sub-index for the volume of residential property advertising fell to 3.88 from 4.18 a month earlier, the survey showed.
Ho said the unchanged price negotiations sub-index indicated that those who put up their homes for sale were reluctant to lower prices, limiting the ability of buyers to talk down purchase prices.