New scratch game with top prize of NT$100,000 to be launched soon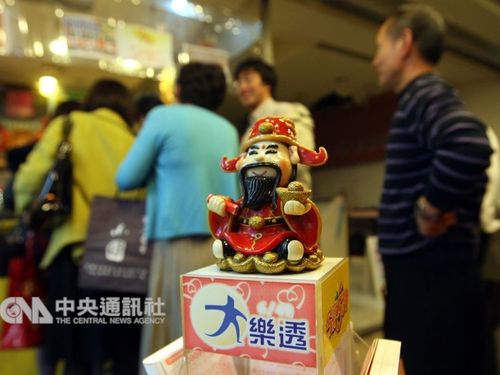 Taipei, June 13 (CNA) A new scratch ticket game will be introduced June 17, offering 200 top prizes of NT$100,000 (US$3,180), Taiwan Lottery Corp. said Thursday.
The Win-Win Lottery scratch tickets will be sold at NT$100 each, and players will have a chance to win prizes of NT$100,000, NT$1,000, NT$200, and NT$100, Taiwan Lottery General Manager Tsai Kuo-chi (蔡國基) said.
The chances of winning in the scratch game will be 29.93 percent, based on two sets of 12 hidden numbers on the ticket, each in a range from 1-24, he said.
The NT$100,000 prize will go to ticket holders who match none or 12 of the 12 winning numbers, and 200 of those prizes will be available among a total of 3.5 million cards, Tsai said.
Players who match one or 11 numbers will win NT$1,000, while those who match two or 10 will win NT$200, and the prize for matching three or nine numbers will be NT$100, he said.
The scratch game is part of the country's Public Welfare Lottery, which saw a 7 percent year-on-year increase in sales in the first five months of the year, with instant ticket games such as scratch-offs showing the highest growth, Tsai said.
In the period January to May, instant ticket sales rose 13 percent from a year earlier to NT$40.3 billion, he said.
Meanwhile, scratch ticket sales totaled NT$12.7 billion during the period, accounting for nearly 33 percent of the total instant ticket sales, Tsai said.