Taiwan could benefit from U.S. ban on Huawei: Economics minister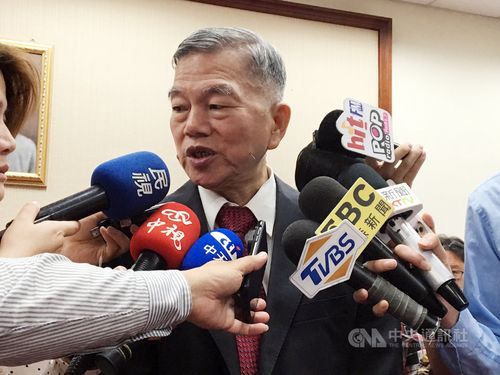 Taipei, May 21 (CNA) Taiwan is likely to benefit from a United States ban on American companies from doing business with Chinese smartphone vendor Huawei Technologies as other smartphone brands order more from Taiwanese suppliers, an economic official said Tuesday.
Speaking on the sidelines of the DevDay Asia 2019, a technology forum held by Microsoft Taiwan, Economic Affairs Minister Shen Jong-chin (沈榮津) said that when Huawei's market share is affected by the U.S. restrictions, its competitors are expected to see shipments rise.
Under such a scenario, Taiwanese ODM makers are expected to secure more orders from other smartphone brands, ultimately benefiting from the U.S. ban, Shen said.
Shen said Taiwanese suppliers have very flexible strategies, and he believed they would be able to position themselves well in a new global trade environment.
Huawei currently ranks as the second largest smartphone brand in the world, behind only Samsung Electronics Co. of South Korea.
A European brokerage was less optimistic, saying that if restrictions on Huawei are prolonged, many Taiwanese tech firms will see their sales decline in the second half of the year from a year earlier.
In a research note, the European securities house said Taiwan Semiconductor Manufacturing Co. (TSMC), the world's largest contract chipmaker, and smartphone camera lens supplier Largan Precision Co. could see their second half revenue fall by 5 percent and 8 percent, respectively.
Integrated circuit packaging and testing firm ASE Technology Holding Co. could see a 10 percent decline in revenue and flat panel maker Innolux Corp. a 28 percent fall in revenue, the brokerage house said.
It also forecast a 17 percent year-on-year decline in second-half revenue for Hon Hai Precision Industry Co. China-based subsidiary Foxconn Industrial Internet Co. Ltd. (FII).
Last week, U.S. President Donald Trump issued an executive order and declared a national economic emergency that empowers the government to ban the technology and services of "foreign adversaries," which apparently targets Huawei.
Following the order, Google Inc., the U.S.-based research engine provider, said it is planning to restrict Huawei's access to its Android operating systems, and will also limit access to its applications like Maps, Gmail and the Google Play store in new handsets made by Huawei.
In addition to Google, Bloomberg reported, American chipmakers, including Intel Corp., Qualcomm Inc., Xilinx Inc. and Broadcom Inc., told their employees they will not supply Huawei.
Analysts said the U.S. government's ban on Huawei will deal a major blow to the company's smartphone shipments worldwide, but the U.S. Department of Commerce announced on Monday it would grant a 90-day reprieve to Huawei and its subsidiaries.
Huawei founder Ren Zhengfei (任正非) was undaunted, telling Chinese media Tuesday that his company is well prepared to deal with the situation while urging U.S. politicians not to underestimate Huawei's strength.
At a time of rising trade tensions between Washington and Beijing, Shen said the MOEA is determined to provide the necessary assistance to overseas Taiwanese manufacturers to upgrade their operations, which he believed will accelerate their return to Taiwan to avoid being caught in the trade conflict.
The MOEA launched an incentive program in January to encourage overseas Taiwanese companies, especially those operating in China, to return home.
So far this year, a total of 55 firms have pledged to invest NT$288.4 billion (US$9.18 billion) in Taiwan, which could create about 28,500 new jobs, the ministry has said.
CNA cannot identify the European brokerage because media outlets in Taiwan are not allowed to report the names of foreign brokerages when they give price-moving forecasts for specific stocks or the wider market.