Two requirements set for EVA Air strike: flight attendants union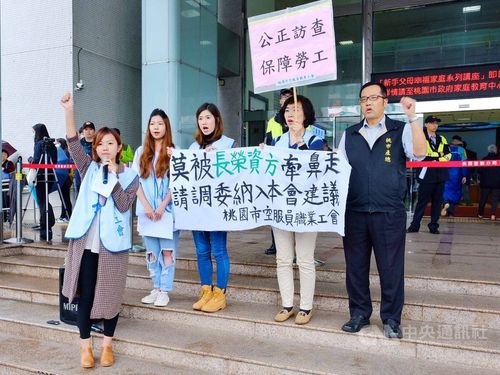 Taipei, April 30 (CNA) Two thresholds will have to be met for a vote by EVA Air flight attendants on whether to go on strike to pass, the Taoyuan Flight Attendants Union (TFAU) announced on Tuesday.
The strike vote will first need the approval of more than half of its 5,600 members, according to the Act for Settlement of Labor-Management Disputes, TFAU Secretary-General Cheng Ya-ling (鄭雅菱) said.
The second requirement reflects the makeup of the union. Its membership includes flight attendants from EVA Air, Taiwan's other major international carrier, China Airlines (CAL), and other small airlines, and some observers have raised concern that the vote could be manipulated by non-EVA Air workers.
Acknowledging that it would be best for an EVA Air labor action to be addressed by that airline's flight attendants, Cheng said the union has voluntarily set a second threshold, requiring that any strike vote be approved by at least 80 percent of its EVA Air members.
"The mechanism will prevent the EVA Air strike from being controlled by CAL members," Cheng said, addressing outside concerns.
The vote will take place from May 13 to June 6 in different stages because of the high number of members involved.
Some 3,000 EVA Air members, who account for three-fourths of the carrier's flight attendants, will cast their ballots between May 13 and May 26, Cheng said.
CAL members will vote between May 27 and June 6, and members from other airlines will vote between June 3 and 6, she said.
(By Lee Hsin-Yin)
Enditem/ls