Taiwan shares hit by regional plunge, fall by more than 1%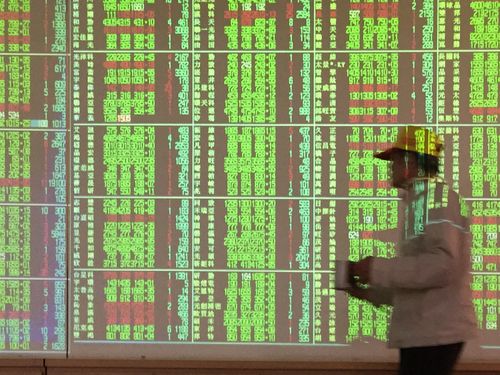 Taipei, Nov. 9 (CNA) Taiwan shares fell more than 1 percent on Friday on investor concern that U.S. President Donald Trump will take a harder line on trade against Beijing after the Republicans lost the House of Representatives to the Democrats, dealers said.
Large cap stocks in the bellwether electronics sector led the downturn amid worries that more tech devices churned out by Taiwanese companies in China will be hurt if the United States imposes tariffs on an additional US$267 billion worth of goods from China as planned, they said.
The Taiex, the weighted index on the Taiwan Stock Exchange, fell 115.30 points, or 1.16 percent, to 9,830.01, after moving between 9,798.45 and 9,921.78, on turnover of NT$101.75 billion (US$3.30 billion).
The bellwether electronics sector tumbled 1.33 percent, led by contract chipmaker Taiwan Semiconductor Manufacturing Co. (TSMC), the most heavily weighted stock in the local market.
TSMC closed down 2.33 percent at the day's low of NT$231.00, with 23.20 million shares changing hands.
"Taipei is not the only market in the region moving lower today, which showed that trade friction remains a concern to many investors region-wide," MasterLink Securities analyst Tom Tang said, referring to Shanghai, Shenzhen and Hong Kong.
"After the GOP lost the House, the market is widely anticipating that Trump will take a tougher line against China on trade issues," Tang said.
"The chances of Trump and (Chinese President) Xi Jinping reaching any agreement in the upcoming G20 meeting (later this month) has been reduced."
Tang said the market fears Washington will impose a tariff on an additional US$267 billion worth of imported goods from China -- the third round of tariffs -- which would mean all of the U.S.'s imports from China will face punitive tariffs.
In the previous two rounds, Washington imposed a 10 percent tariff on US$200 billion worth of Chinese goods in September after a 25 percent tariff on US$50 billion worth of Chinese goods earlier this year. The 10 percent tariff is expected to rise to 25 percent by the end of this year.
China exported about US$500 billion in goods to the U.S. last year.
"The third round of tariffs imposed by Washington, if it turns out to be true, will inevitably affect more electronics devices, such as notebook computers and smartphones. So investors here simply dumped their tech holdings today."
Also in the electronics sector, iPhone assembler Hon Hai Precision Industry Co. closed 0.65 percent lower at NT$76.10, and Largan Precision Co., a supplier of smartphone camera lenses to Apple Inc. lost 3.75 percent to NT$3,080.
Elsewhere, in the financial sector, Mega Financial Holding Co. closed 0.94 percent lower at NT$26.45, while Cathay Financial Holdings rose 0.20 percent to close at NT$51.10 and Fubon Financial Holdings finished 0.39 higher at NT$51.10.
The financial sector as a whole ended only 0.27 percent down, outperforming the broader market.
Dealers said that resilience may have been the result of support from government-led funds that many believe are trying to prop up the stock market to help the government ahead of the Nov. 24 local elections.
Among old economy stocks, Formosa Plastics Corp. lost 0.98 to close at NT$101.00, Formosa Petrochemical Corp. finished 2.09 percent lower at NT$117.00, and textile maker Far Eastern New Century Corp. shed 2.67 percent to close at NT$30.95.
"Today's sell-off pushed down the Taiex below the 20-day moving average of 9,868 points and more losses are possible as the mood of investors was hurt under such unfavorable circumstances," Tang said.