Taiwan, Iraqi sign MOU to promote trade exchanges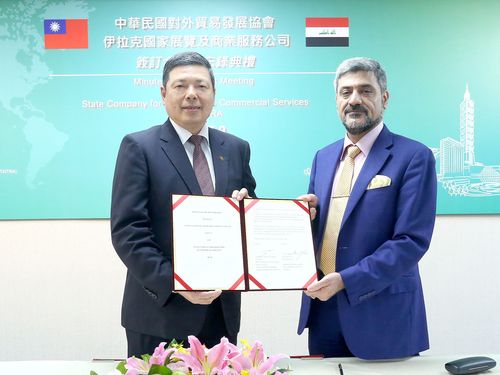 Taipei, July 10 (CNA) Taiwan External Trade Development Council (TAITRA), the country's foremost nonprofit trade promotion organization, signed a Memorandum of Understanding (MOU) with the State Company for Iraqi Fair and Commercial Services in Taipei on Tuesday to promote economic and trade exchanges between the two countries.
The MOU was signed by TAITRA President and CEO Walter Yeh (葉明水) and Hashim Mohammed Hatem al-Sudani, chairman of the Iraqi company.
Yeh said that TAITRA plans a series of promotional activities this year to explore the market in the Middle East and help local enterprises cooperate with economic and trade associations in the area.
Highlighting Iraqi's abundant crude oil reserves, political stability and growing economy, al-Sudani said that Taiwanese businesses are welcome to invest and do business in the Middle Eastern country.
He also used the opportunity to discuss economic, trade and business opportunities available in Iraq.
Iraq has undertaken several major infrastructure projects over the past few years, including information and computer technology, electricity power systems, transportation, building construction, machinery, and is making progress after decades of war and instability, according to al-Sudani.
An international conference on the reconstruction of the country, which took place Feb. 12-14, drew participants from 76 countries as well as regional and international organizations, 51 development funds and financial institutions, and 107 local, regional and international nongovernmental organizations, as well as 1,850 private sector representatives, al-Sudani said.
Iraq has said it needs US$88.2 billion for reconstruction and related projects are expected to provide numerous business opportunities, he added.