U.S. cites Taiwan's pork, beef import restrictions as trade barriers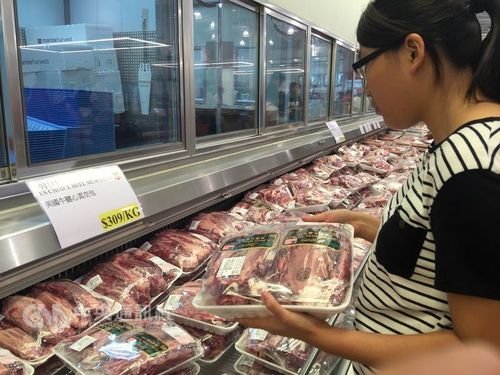 Washington, March 30 (CNA) The Office of the United States Trade Representative (USTR) has again cited Taiwan's restrictions on pork and beef imports from America as one of the trade barriers between the two economies.
In the USTR 2018 Trade Estimate Report released on Friday, the office reiterated that the restrictions Taiwan has imposed on such imports are trade barriers, urging Taiwanese authorities to adopt scientific standards in "a timely manner" on pork and beef imports from the U.S.
Amid grave public concern and strong opposition, Taiwan has maintained a ban on U.S. pork products containing the leanness enhancing drug ractopamine since 2006. But the country relaxed its ban of the drug in U.S. beef products in 2012 due to U.S. pressure.
In addition, Taiwan adopted and implemented a maximum residue limit (MRL) in 2012 for ractopanmine in beef muscle cuts consistent with the Codex Alimentarius Commission, a United Nations body that sets food standards.
According to the USTR, Taiwan has not implemented an MRL for ractopamine on other beef products (offal) or pork, although it has notified the World Trade Organization in 2007 that it intended to do so.
In addition, Taiwan has also not established MRLs for other beta-agonist compounds or provided science to support such a policy, the USTR said.
"Taiwan authorities state that pressure from the domestic pork industry and consumer groups prevent their establishment of an MRL for pork," the USTR added.
"The United States will continue urging Taiwan to implement the remaining proposed MRLs for ractopamine without delay and to accept and approve new applications for MRLs for beta-agonists based on science in a timely manner," the USTR said in the report.
"Taiwan's slow process for establishing MRLs for pesticides, low number of approved MRLs and zero tolerance policy for pesticides without established MRLs have resulted in U.S. shipments being stopped at the ports of entry and other restrictions on U.S. agricultural exports to Taiwan," the USTR added.
The USTR said Washington will continue to urge Taipei to "open its market fully to U.S. beef and beef products based on science, World Organization for Animal Health (OIE) guidelines, the United States' negligible risk status and beef protocol."
Earlier this month, Stanley Kao (高碩泰), Taiwan's representative to the U.S., said Taiwan is very willing to address farm product issues with other countries, but added that food safety remains the top priority.
While the USTR cited pork and beef import restrictions as one of the barriers to trade between the U.S. and Taiwan, the office said Taipei has made progress in reducing obstacles in pharmaceuticals and cosmetics imports from Washington.
According to the USTR, Taiwan posted US$16.7 billion in trade surplus with the U.S. in 2017, up 26.7 percent from a year earlier.
Last year, exports from the U.S. to Taiwan totaled US$25.8 billion, down 1.1 percent from a year earlier, while exports from Taiwan to the U.S. rose 8.3 percent from a year earlier to US$42.5 billion, the USTR data showed.
In 2017, Taiwan was the 14th-largest goods export market of Washington, the data indicated.