U.S., Taiwan hold technology licensing dialogue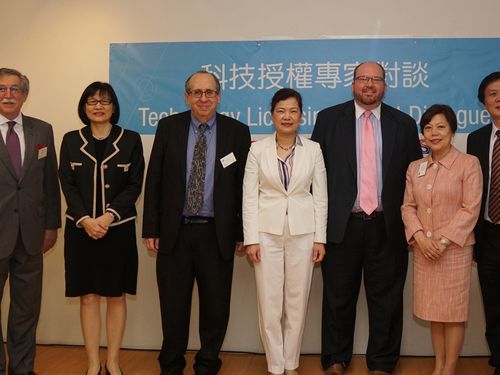 Taipei, March 30 (CNA) The American Institute in Taiwan (AIT) and Taiwan's Ministry of Economic Affairs co-hosted a dialogue between technology licensing experts on Thursday in Taipei, to explore the legal framework and provide practical guidance for industry participants in technology licensing, according to the AIT.
Noting the booming technology licensing trade between Taiwan and the United States, the AIT said in a statement "this trade creates value through spurring innovation, disseminating technology and generating income for intellectual property owners by technology transfer and commercialization."
"Licensing partnerships allow IP owners to create new revenue streams and gain access to new markets, gain access to technical advances, and create new and innovate products for consumers to enjoy," AIT Acting Deputy Director Christian Marchant said in his opening remarks at the one-day event.
He also noted that ensuring U.S. owners of intellectual property (IP) have a full and fair opportunity to use and profit from their IP is a key U.S. trade policy objective.
The dialogue brought together officials and experts from both sides in related areas, said the AIT, which represents U.S. interests in Taiwan in the absence of bilateral diplomatic relations.
United States Patent and Trademark Office Senior Counsel Mark Cohen said the U.S. appreciates the important role of Taiwan as an export market for U.S. technology and the relative freedom afforded licensors to conduct business transactions.
"Increased understanding of the role of the market in technology transfer, increased data on the nature of the technology trade, and increases in freedom to negotiate help accelerate technology diffusion for the benefit of Taiwan, the United States, and indeed the world," Cohen said.
The dialogue -- co-organized by the AIT, the ministry's Taiwan-USA Industrial Cooperation Promotion Office and the American Chamber of Commerce in Taipei -- follows the digital economy forum between Taiwan and the U.S. in October 2016, during which both sides affirmed the importance of intellectual property rights and licensing to expand two-way technology trade and investment between the two economies.
In February, the U.S. and Taiwan also signed a memorandum of understanding to strengthen cooperation on combating intellectual property infringement and trade fraud crimes.
Data from the U.S. Department of Commerce Bureau of Economic Analysis shows that Taiwan was the world's ninth largest source of payments to the U.S. for intellectual property in 2015, the AIT said.
(By Elaine Hou) ENDITEM/AW