Taiwan's envoy voices plight of damaged businesses at Hanoi seminar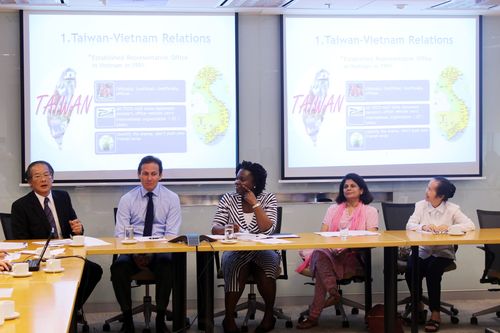 Hanoi, June 5 (CNA) Taiwan's representative to Vietnam, Huang Chih-peng, tried to help Taiwanese companies which suffered losses during the recent anti-China riots, seek compensation in a speech he delivered at a World Bank economic seminar.
Speaking at the seminar in Hanoi, Huang first briefed participants on the cooperative relations between Taiwan and Vietnam, agreements signed by the two countries, and Taiwanese enterprises' contributions to Vietnam.
However, Huang said, since Vietnamese protests against a Chinese oil rig in disputed waters turned ugly on May 13 and inflicted damage on Taiwanese companies in Vietnam, the situation has totally changed.
Taiwanese companies were damaged and looted during the riots as protesters failed to distinguish between them and Chinese firms.
The riots in the southern provinces of Binh Duong and Dong Nai, Ho Chi Minh city and the central province of Ha Tinh affected 408 Taiwanese enterprises, 25 of which were seriously damaged. Total cumulative losses ranged between US$200 million to US$500 million.
The rioting left Taiwanese business people in the country frightened and aggrieved, Huang said.
At the same time, he commended the Vietnamese government for rolling out measures to deal with the aftermath of the incident.
Huang pointed out that Vietnam's Prime Minister Nguyen Tan Dung has issued several orders, asking relevant government agencies to help Taiwanese companies recover their losses and resume normal operations.
He urged local governments to follow the prime minister's orders and help Taiwanese companies get back on their feet and claim compensation for damages.
Huang said he had heard that while some Taiwanese enterprises were working to resume operations at their factories in Vietnam, local government officials were trying to extort money from them. "That was not a good situation," he added.
As Taiwan's representative to Vietnam, Huang said that while seeking compensation for the Taiwanese companies, he also hopes to continue cooperation with Vietnam's government.
The economic seminar provided a rare opportunity for Huang to speak on behalf of Taiwan and Taiwanese enterprises.
Huang added that his representative office will continue to prod the Vietnamese government to help Taiwanese enterprises resume operations.
Huang was the first Taiwanese representative to the Southeast Asian country to have delivered a speech in such a seminar since the office was established 22 years ago.
The seminar hosted by Victoria Kwakwa, the World Bank's Country Director for Vietnam, at the World Bank Office in Hanoi, attracted the participation of ambassadors, officials and economists from several countries, including Sweden, Czech, Singapore, Japan and South Korea.
Related stories:●June 5: Vietnam prime minister meet Taiwanese business people after riots
Video report:Taiwan request help in Vietnam
(Click here for developments related to the anti-China protest-turned-riot in Vietnam.)