Taiwan, Pakistan to further strengthen trade relations (update)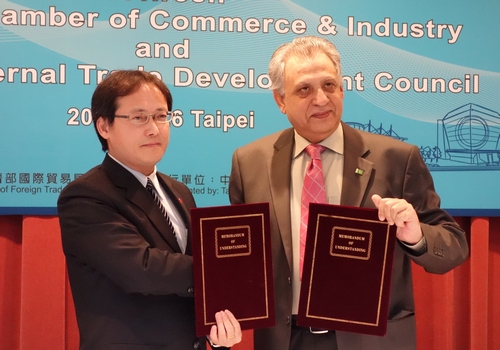 Taipei, Nov. 26 (CNA) Taiwan's main trade promotion body signed a memorandum of understanding (MOU) with its counterpart in Pakistan on Tuesday on trade exchanges between the two countries.
Simon Wang, executive vice president of the Taiwan External Trade Development Council (TAITRA), and Sohail Lashari, president of the Lahore Chamber of Commerce and Industry (LCCI), signed the memorandum at a ceremony held in Taipei.
"Pakistan is an important trade partner of Taiwan," Wang said at the ceremony, citing growing trade volume between the two countries.
During the first ten months of the year, bilateral trade between Taiwan and Pakistan totaled US$635 million, up 20.2 percent from the same period a year earlier, Wang said.
Total trade amounted to US$629 million in all of 2012, according to official statistics.
The MOU serves as the beginning of a chapter in creating new commercial opportunities for businessmen from the two countries, Wang said.
Lashari echoed Wang's opinion, expressing hope that the two countries can know each other better and do more business in the future.
"We shall hold hands together and make our businessmen more prosperous," he said at the event, adding that he was excited to see such cooperation.
The LCCI head also invited TAITRA to set up its 61st overseas trade office in Pakistan, offering space at the chamber's premises rent free.
Forty-eight trade meetings organized by TAITRA between 30 local businesses and the Pakistani delegation were to be held later in the day.
Established in 1923, the LCCI currently has over 18,000 business members and is in charge of trade promotion and industrial development for Pakistan.
(By James Lee) ENDITEM/ls