Call for Posters! 2023 'Color Our Rights' Poster Competition Kicks Off Human Rights Awareness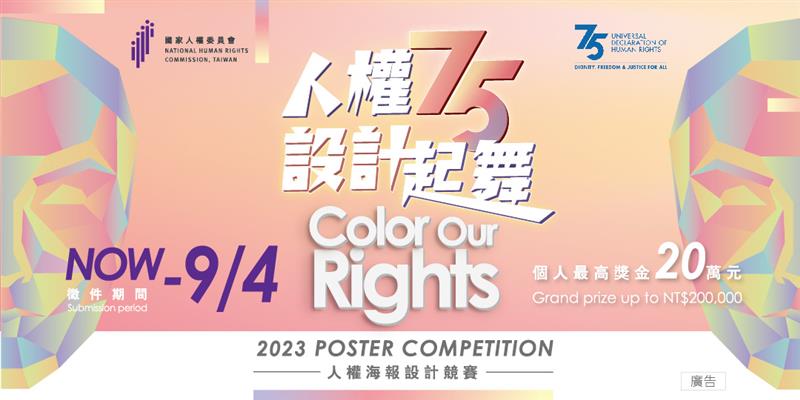 The National Human Rights Commission (NHRC) is organizing the 2nd edition of the Human Rights Poster Design Competition to commemorate the 75th anniversary of the United Nations General Assembly's adoption of the Universal Declaration of Human Rights (UDHR). Contestants are encouraged to incorporate the concept of the various articles of the declaration into poster designs and illustrate the universal values of human rights.
The registration process has already begun and will end on September 4, 2023. The competition is divided into two categories: Student and General, with top-placing posters receiving up to NT$200,000. Those entering the Student category must currently be enrolled in high school or above; those entering the General category must be above the age of 18.
The competition, composed of a preliminary round, a semi-final round, and a final round, will be judged by a panel of experts in the fields of art and human rights. Finalists will have the opportunity to exhibit their creations at the "International Human Rights: Poster Exhibition," which will help increase the visibility and exposure of their art.
The final selected works will be published on the event's website on November 1. Members of the public are being invited to take part in the "Human Rights Begin with You" public voting event to vote for their favorite shortlisted artwork online. To vote, visit the website, fill out a questionnaire, share your insights, and voters will get a chance to win an exclusive prize!
The award ceremony is tentatively scheduled to be held in early December. Prizes for both categories will be awarded as outlined below: one Gold Award with a cash prize of NT$200,000, two Silver Awards with a cash prize of NT$100,000 each, three Bronze Awards with a cash prize of NT$50,000 each, 12 Honorable Mention Awards with a cash prize of NT$15,000 each and one Online Popularity Award with a cash prize of NT$20,000.
Unleash your creativity by participating in the Poster Design Competition and stand a chance to win attractive prizes! Visit the official website (http://nhrc-postercompetition.net) and click on the registration link to raise awareness about human rights through the power of your art!