Leading the World with Top Manufacturing Technology, Kaohsiung Boosts Leisure Industry by Building Yacht Marinas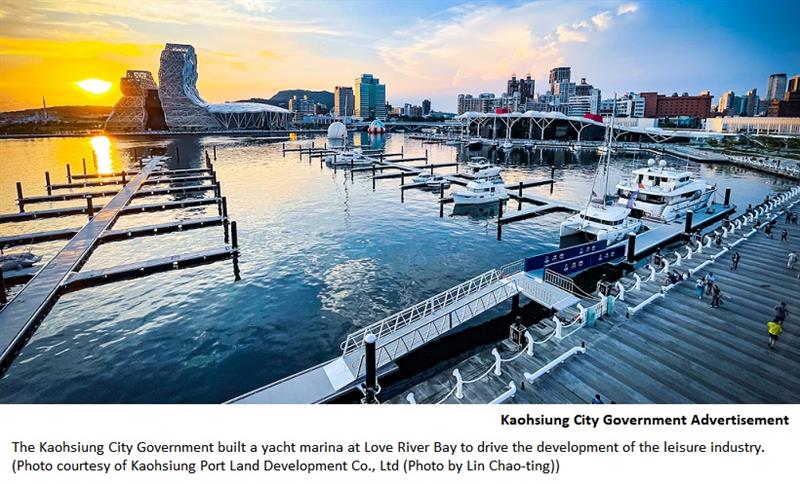 The yacht industry in Taiwan has roots that go back over 40 years, and for ten consecutive years, Taiwan has been shortlisted among the top ten luxury yacht-producing countries. According to the statistics which record the global sales of mega yachts that are 80 feet or more in length, Taiwan is ranked as the fourth largest yacht-producing country globally in 2022. Home to over half of Taiwan's yacht manufacturers, Kaohsiung accounts for 80% of the country's yacht manufacturing output. With its strong competitiveness and superior manufacturing technology, the southern city is an important base for yacht production and has gained recognition from global buyers.
In recent years, driven by the improved standards of living in Taiwan, the leisure tourism market has experienced continual growth. However, due to the limited number of marinas in Taiwan, yacht berths as well as other related services and facilities are evidently insufficient. In support of the development of Taiwan's yacht industry, the Kaohsiung City Government has successively completed the bidding for BOT projects for the construction of the Love River Bay in the Asia New Bay Area and the Singda Harbor.
The Argo Yachts Development Co., Ltd. invested NT$250 million to construct a 3.26 hectares marina at the Love River Bay, which is located in the prime area of the Asia New Bay Area, providing 87 world-class berths dedicated to yachts between 60 to 145 feet in size as their home port. The company also established the Argo Love River Bay Yacht Club and a marine education center, creating 70 job openings, and at the same time, effectively connecting the surrounding leisure tourism services and the pop music industry.
Besides, in conjunction with the City Government's launch of the Startup Terrace and the 5G AIoT project, the marina berths will be equipped with the "5G Smart Cloud Hydropower Pile" that makes marina management more effective and smarter. In the future, the marina is set to compete for the Gold Anchor Global Marina Accreditation so as to showcase Kaohsiung to all yacht owners around the world to offer them a better understanding of the city as well as flourish the yacht industry and gradually include the use of smart technology.
Aside from the leisure industry that is driven by the development of the yacht marina around the Love River Bay, the surrounding area of the Asia New Bay Area also includes a number of major public infrastructures that have been completed or are under construction, such as the Kaohsiung Music Center, Kaohsiung Port Cruise Terminal, Kaohsiung Main Public Library Phase II, Kaohsiung Exhibition Center, Pier-2 Art Center, Great Harbor Bridge, Circular Light Rail Line, MRT Yellow Line, Kaohsiung Software Park Information Service. These constructions shoulder the important task of promoting Kaohsiung's industry and tourism development. (Kaohsiung City Government Advertisement)