Taiwan's Hsieh wins 2 golds, 1 silver at world powerlifting championships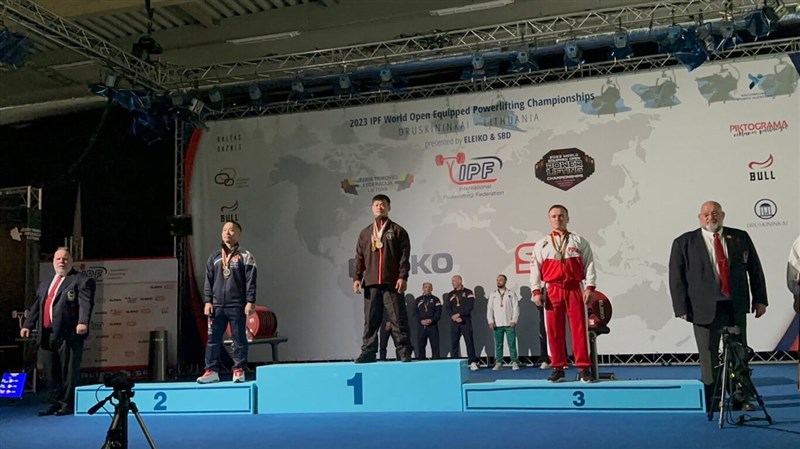 Taipei, Nov. 15 (CNA) Taiwanese powerlifter Hsieh Tsung-ting (謝宗庭) won two gold medals and a silver in the men's 66kg category on the first day of the 2023 World Open Equipped Powerlifting Championships in Druskininkai, Lithuania on Tuesday (local time).
Hsieh, a seven-time world champion, won a gold medal after completing a combined weight of 785 kg in the men's 66kg lightweight powerlifting event that consisted of squat, bench press and deadlift.
He also won a gold medal in the bench press category after completing a bench press of 217.5 kg, and a silver medal in the deadlift after lifting 287.5kg.
Hsieh, 41, began his powerlifting journey at the age of 15. Over the past 26 years, the veteran lifter has won numerous medals in international competitions, including a gold medal at the 2009 World Games in Kaohsiung and a bronze medal at the 2013 World Games in Cali, Colombia.
Meanwhile, Taiwan's Wu Hue-chun (吳惠君) won a silver medal in the women's 57 kg bench press category (135 kg), and Wu Yi-heng (吳宜衡) also took home silver in the men's 74 kg deadlift category (305 kg).
Taiwan has sent eight male and eight female powerlifters to the world championships this year and won three gold, three silver, and six bronze medals on the first day of the championships.
The 2023 event will run until Nov. 18.
Related News
Nov. 19: Taiwanese powerlifter sets world record at Lithuania championships