ASIAN GAMES
/
Chan sisters net major victory in Asian Games women's doubles final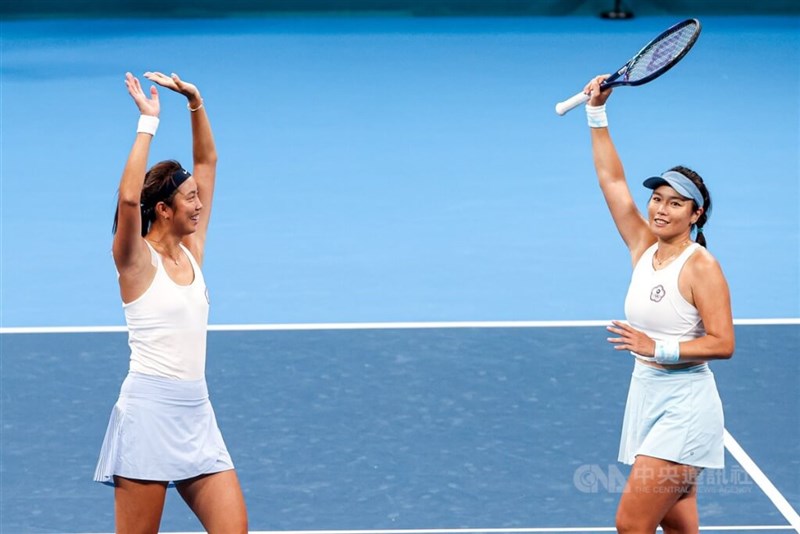 Taipei, Sept. 30 (CNA) Tennis sisters Chan Yung-jan (詹詠然) and Chan Hao-ching (詹皓晴) claimed the Hangzhou Asian Games women's doubles title Saturday on a straight-set victory over their Taiwanese compatriots 6-4, 6-3.
It took the duo 90 minutes to triumph over Lee Ya-hsuan (李亞軒) and Liang En-shuo (梁恩碩), after which they celebrated their first women's doubles title at the Asian Games, referring to it as a "significant" feat.
"We didn't win the gold in the last edition when everyone expected us to do so, but we made it today!" said the 30-year-old Chan Hao-ching, regretting their loss in the final in Jakarta in 2018.
The sisters first paired up in Incheon in 2014, in which they ended up third place.
Chan Yung-jan's last women's doubles title at the Asian Games dated back to 2010 when she paired up with Chuang Chia-jung (莊佳容).
Lee burst into tears after losing the match to the sisters on Saturday.
"I want to win the final so bad. But the sisters played too well and gave us no chances. I feel pity because I have put much effort into it," Lee said.
Chan Yung-jan, a veteran at the age of 34, said they were able to take the win only because they are more experienced. That made them able to seize the match when it came down the stretch.
The title also marked Chan Yung-jan's fifth at the quadrennial sports competition, placing her on top of the Taiwan team's history at the Asian Games for claiming the most golds.
After Saturday's victory, Chan Yung-jan, who has competed in five Asian Games, has racked up five golds, three silvers and one bronze.
"I feel like it would have been a good ending if my career has concluded now," Chan Yung-jan said, adding that she would not think about her next step before taking a good rest to recover both mentally and physically.
Also on Saturday following the women's doubles final, Liang and Huang Tsung-hao (黃琮豪) finished runners-up in the mixed doubles final, losing to Rutuja Bhosale and Rohan Bopanna of India 6-2, 3-6, 4-10.
View All