Competitor dies at annual Sun Moon Lake swim fest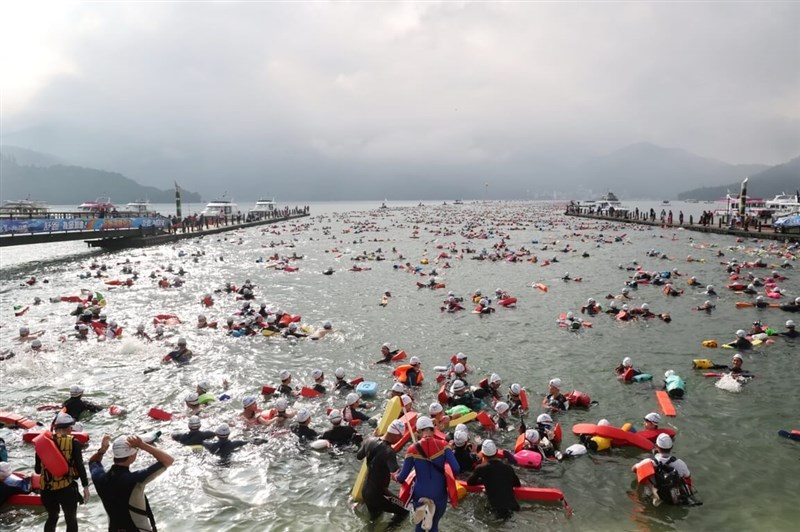 Taipei, Sept. 24 (CNA) A 25-year-old man participating in the Sun Moon Lake International Swimming Carnival on Sunday fell ill soon after entering the water and was later pronounced dead, according to local authorities.
The Nantou County government said the man, surnamed Yuan (袁), doffed his swim cap, signaling distress, about 100 meters into the annual 3,000-meter swimming competition across Taiwan's largest lake.
Emergency personnel quickly pulled Yuan onto a raft and from there transferred him into an ambulance, by which time he was already suffering out-of-hospital cardiac arrest, the county government said.
The man was later pronounced dead at Puli Christian Hospital after efforts to revive him failed, the county government said, adding that he had not drowned and that his cause of death was still being investigated.
The young swimmer's death cast a shadow over the popular event, which has been held annually since 1983 and this year drew more than 24,000 competitors from 33 countries.
According to the county government, Taipei resident Lin Che-yu (林哲宇) completed the race route from Chaowu Pier to Ita Thao Pier in only 43 minutes, recording the fastest time for the second consecutive year.
Former President Ma Ying-jeou (馬英九), participating in the event for the tenth time at age 73, crossed the lake in 2 hours and 48 minutes -- two minutes faster than last year but well off his record of 1 hour and 37 minutes set in 2019.