Taiwan gymnasts grab gold and silver in team event in Singapore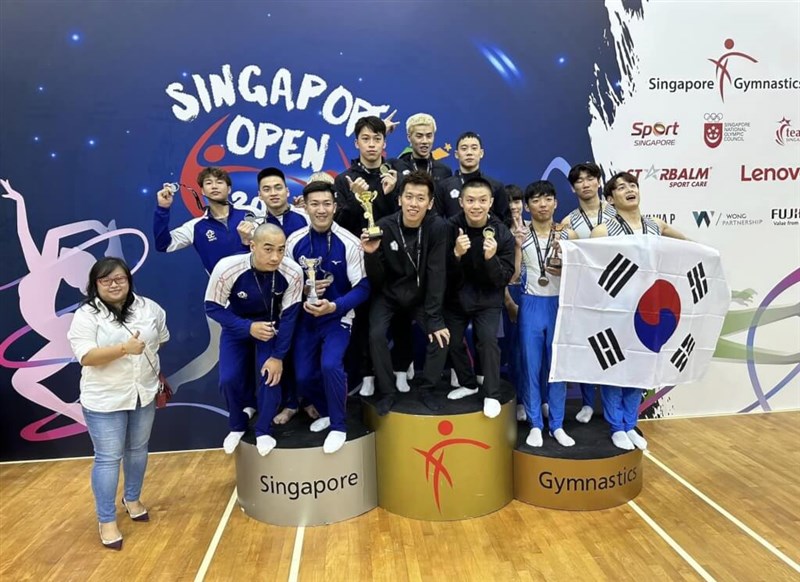 Taipei, June 3 (CNA) Taiwanese gymnasts won the gold and silver medals in the men's team event at the Singapore Gymnastics Open Championships on Friday.
Two teams from Taiwan were entered in the three-team event that combined each team's best four scores in six disciplines -- floor, pommel horse, rings, vault, parallel bars and high bar.
One of the teams was led by Olympic medalist Lee Chih-kai (李智凱), and consisted of teammates Shiao Yu-jan (蕭佑然), Hung Yuan-hsi (洪源禧), Yeh Cheng (葉政) and Lin Guan-yi (林冠儀).
Lee, Shiao and Hung were all part of the Taiwan team that finished 10th in the men's all-around at the Tokyo Summer Olympics in 2021.
Together they won gold with 320 points, beating Taiwan's second team by 17.4 points. The bronze medal went to a South Korean men's team that did not appear to have any of its Tokyo Olympians and scored a total of 287.85 points.
Separately Friday, Yeh finished on top of the podium with a total of 80.550 points in the men's individual all-around event, while the silver went to Lin with 79.750 points.
According to Taiwan gymnastics team coach Lin Yu-hsin (林育信), the team was using the Singapore Open as a warmup for the 2023 Asian Artistic Gymnastics Championships, to be held in Singapore June 10-18.
The Singapore Open is being held until Sunday at the Bishan Sports Hall.