International clubs kick off North Asian Gaelic Games in Taiwan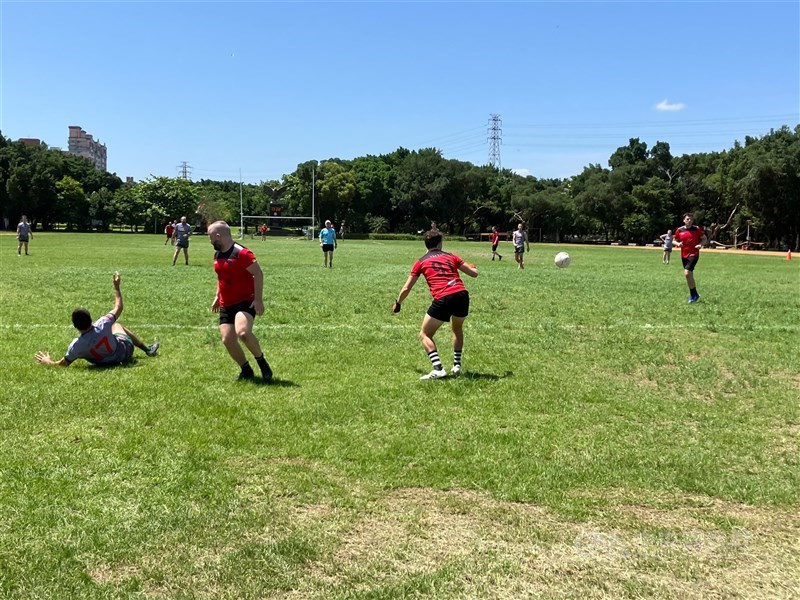 Taipei, May 27 (CNA) A total of 16 international Gaelic football clubs competed in New Taipei Saturday in the North Asian Gaelic Games, the first international competition of its kind hosted by Taiwan.
The tournament was held in the Fuhe Sports Park and saw the participation of men's and women's clubs from Taiwan, China, Hong Kong, Japan, South Korea and Vietnam.
Shane Moore, chairman of the Hong Kong GAA club, described Gaelic football, also known as GAA, as a fusion of soccer, rugby, basketball, and volleyball.
The unique sport is arguably the most played sport in his home country of Ireland, and has caught on in the U.K., Australia and the U.S., Moore told CNA.
Yu Ling-li (余玲利) of the Taiwan Celts, who is the head organizer of Saturday's tournament, said the sport has gained traction in Taiwan in recent years.
According to Yu, about four years ago, her club had only about 15 members, but today it has 150, including people who signed up for the paid membership program.
To promote Gaelic football, Yu said, Taiwan Celts often holds games at venues near Fuhe Bridge in New Taipei's Yonghe District and Bailing Bridge in Taipei's Shilin District where clubs from the two municipalities are pitted against one another.
To show the approximately 100 members of international clubs that are in Taiwan for the tournament "what Taiwan is about" and its culture, Taiwan Celts will be holding on Sunday a food tour, a hiking tour on Elephant Mountain in Taipei, and a party at M Club in Taipei's Dazhi featuring live music, she said.
Chris Walsh, chairperson of Taiwan Celts, said his club was founded in 1995 in Taipei by a group of Irish engineers who came to Taiwan to start their new jobs. It was the first GAA club in Asia.
In 1996, Taiwan Celts held the first Gaelic football tournament in Asia in the Philippines, and has held tournaments around the continent every year for the past 28 years, Walsh said.
Highlighting the many nationalities that make up his club and other clubs in Taiwan, Walsh said that Gaelic football is famous for its inclusivity and diversity.
Taiwan Celts has worked to recruit as many Taiwanese as possible, which was evidenced by the many local players in Saturday's tournament, Walsh said.
"Everybody is welcome to join our club," regardless of what their skill level is or whether they have a good understanding of the sport, Walsh said.
"If they come, we'll make sure they get a very warm welcome," Walsh said.
Staying true to the event's Irish essence, the participants closed the day with a game of camogie, an Irish stick-and-ball team sport, and hurling, an outdoor game of ancient Gaelic Irish origin.