Taiwan pitcher Pan Wen-hui hoping to make majors in five years
Taipei, Jan. 17 (CNA) Taiwanese flamethrower Pan Wen-hui (潘文輝), who has been signed by the Philadelphia Phillies, said Monday he hoped to make it to the major leagues in five years' time.
The 20-year-old Pan signed a US$420,000 contract with the Phillies that consisted of a US$350,000 signing bonus and US$70,000 toward college education expenses as Major League Baseball's (MLB) international signing period opened.
He is expected to depart Saturday for a Phillies training camp in the Dominican Republic, according to media reports.
"The goal I give myself is five years, I hope to get to the majors after five years," Pan said at a press conference announcing the signing on Monday.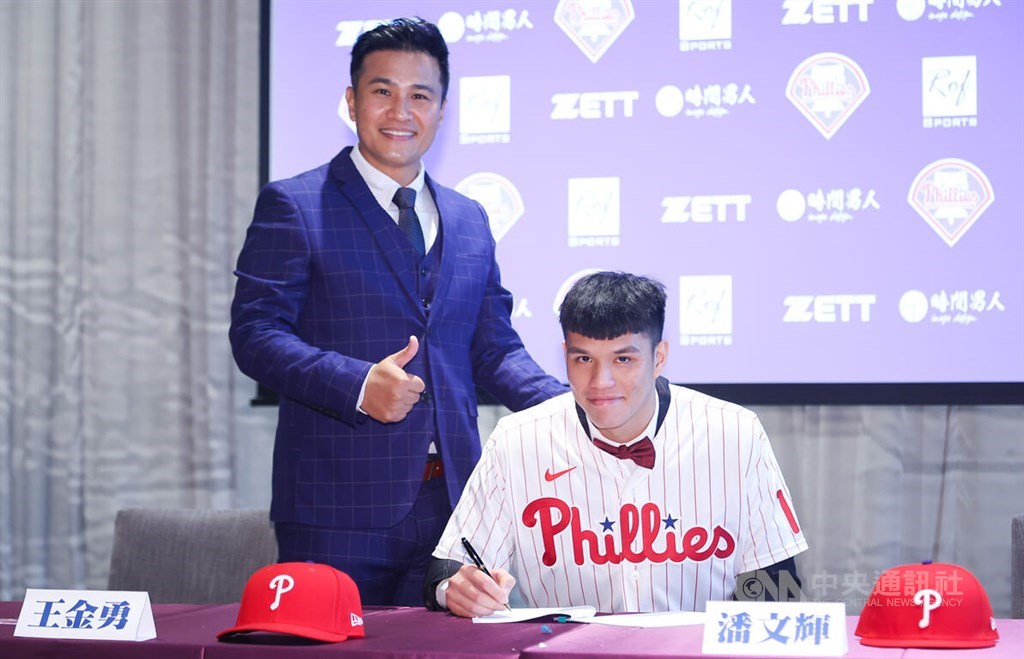 Phillies scout Wang Jin-yong (王金勇) said he thought Pan could actually get to the big leagues in three or four years.
He described Pan as a player who is disciplined and works hard and has a major-league pitcher's body at 1.88 meters tall, and said that if Pan continues to improve he will have a high ceiling and definitely wear an MLB uniform.
Pan throws four pitches -- a fastball, splitter, slider and curveball -- but his command is sometimes shaky, according to media reports.
But Wang felt that the young Taiwanese hurler works on his command and spin rate, his fastballs that top out at over 98 miles per hour will get him a lot of strikes.
According to reports, Pan came under the spotlight at the age of 16 in 2019 when he threw 96.4 mph in a high school tournament. Since then, Pan's games have drawn many scouts from MLB, Japan's National Professional Baseball (NPB) and the CPBL.
Pan has also represented Taiwan, which competes under the name "Chinese Taipei," in U-18 and U-23 national teams.
At the 2021 U-23 World Cup, he struck out five over four innings as a reliever against teams from Mexico, the Dominican Republic, Colombia and Venezuela.