OLYMPICS
/
Team Taiwan takes part in Beijing Winter Olympics closing ceremony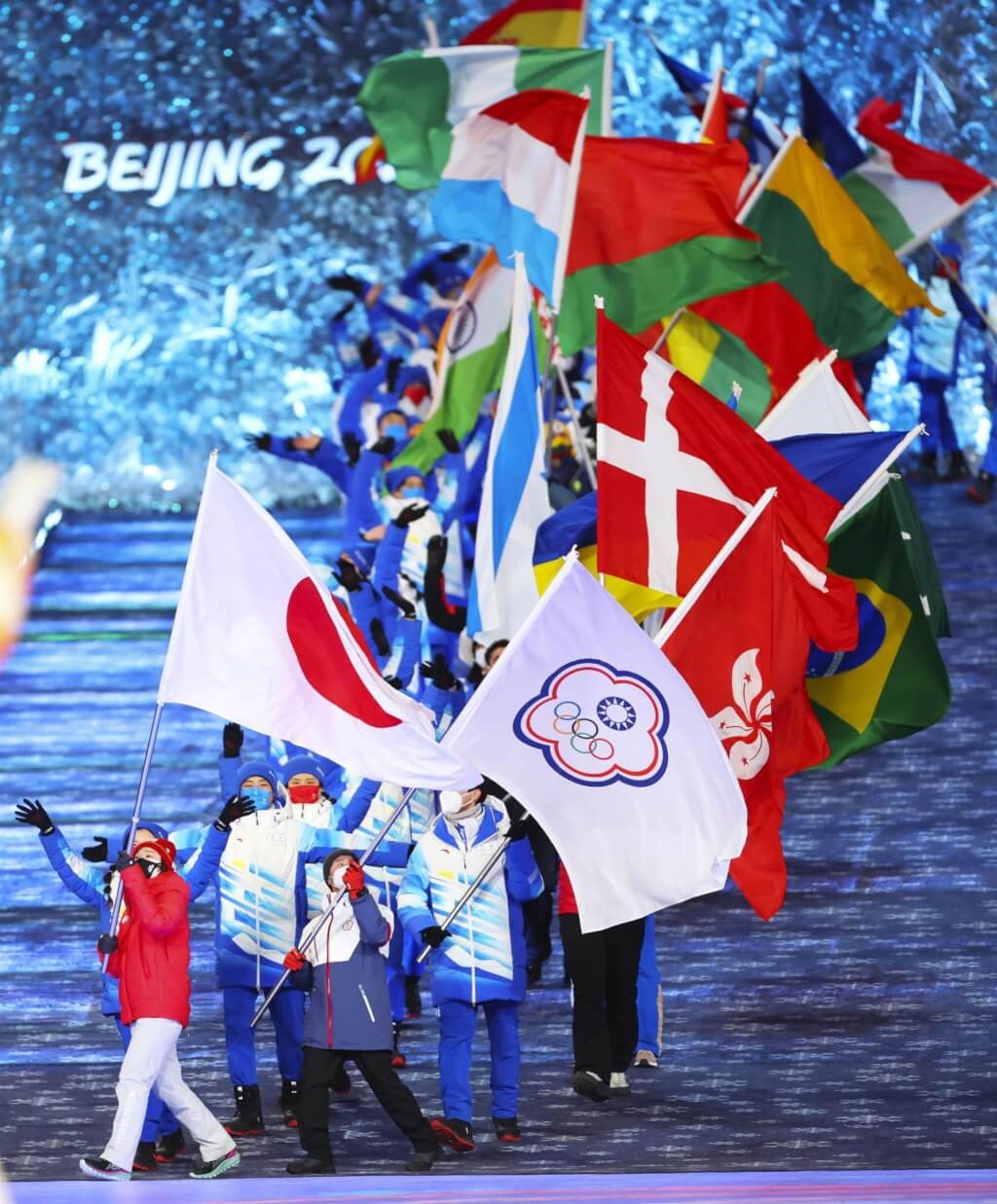 Taipei, Feb. 20 (CNA) Led by skier Lee Wen-yi (李玟儀), Taiwan took part in the closing ceremony of the Winter Olympics in Beijing on Sunday night after mixed signals from its top sports body.
Taiwan's Sports Administration declared last month that Taiwan would not participate in the opening and closing ceremonies, citing flight schedules and COVID-19 pandemic-control measures, a move that some saw as an informal boycott.
On Feb. 4, however, it reversed its stance following pressure from the International Olympic Committee (IOC), but on Feb. 10 hinted again at the idea of not taking part in the closing ceremony because the four Taiwanese athletes at the games might have already left Beijing by then.
Only on Friday did the agency confirm Taiwan would attend, with Lee one of two athletes to appear.
Skier Ho Ping-jui (何秉睿) was the other Taiwanese athlete to have attended after it had been thought that he might not attend because of an injury he suffered during the men's slalom on Wednesday, according to media reports. He crashed out on his first run.
Walking among a mixed group, Lee -- Taiwan's first female Olympian to take part in alpine skiing -- carried the Chinese Taipei Olympic flag into the National Stadium, which was also the main venue for the 2008 Summer Olympics in the same city.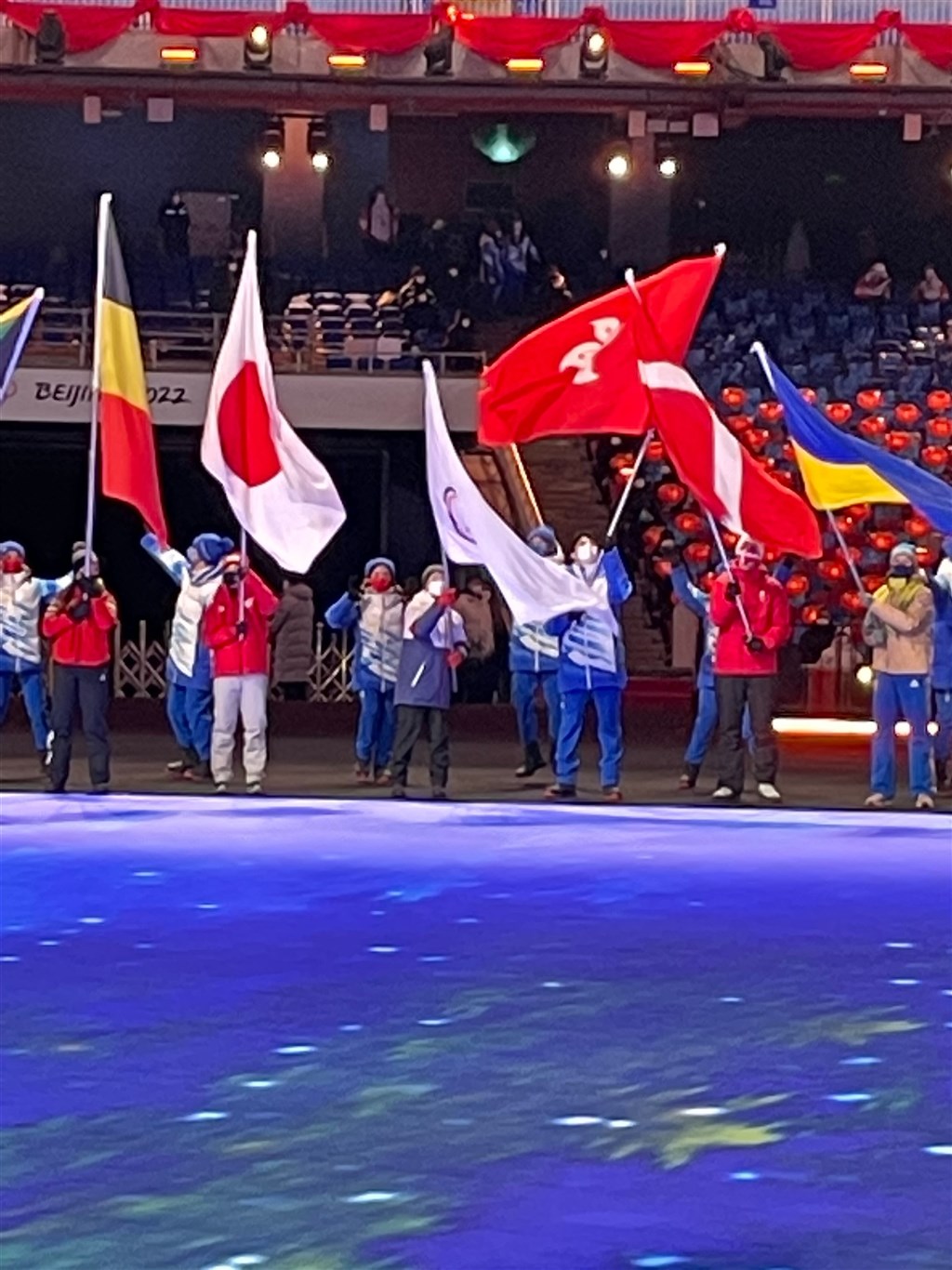 Among the other athletes, speed skater Huang Yu-ting (黃郁婷), who was one of the carriers of the Chinese Taipei Olympic flag at the opening ceremony, reportedly left Beijing for the United States on Saturday.
She finished 24th in the women's 1,000-meter race and 26th in the women's 500-meter and 1500-meter races.
Meanwhile, Lin Sin-rong (林欣蓉), who finished 31st in the luge women's singles, had already returned to Taiwan.
Though Taiwan had only a minimal presence at the Beijing games, it was still involved in controversy largely related to politics.
Huang competed in Beijing while facing online attacks by Taiwanese netizens for posting a video on her social page showing her wearing a Chinese national team skinsuit she said was given to her by a friend on the Chinese team.
The video was posted on Jan. 23, but was not widely noticed until Feb. 3, a day before the Olympics began, after which Huang removed it from her social media page.
The skater has since apologized, and while the Sports Administration chided her for not being sufficiently aware of the sensitivity of cross-Taiwan Strait politics, it did not punish or reprimand her and allowed her to compete for Taiwan as planned.
A statement issued by the government Saturday said, however, that Premier Su Tseng-chang (蘇貞昌) has asked the Ministry of Education (MOE) and the SA to investigate Huang's "inappropriate actions" so that she "receives an adequate punishment."
Taiwan's government on Friday also criticized a Chinese official for suggesting Taiwan is a part of Chinese territory at a press briefing of the Winter Olympic Games, describing the remark as "inappropriate" political propaganda.
In a departure from standard practice, Yan Jiarong (嚴家蓉), a spokeswoman for the Beijing Organizing Committee for the Olympic Games (BOCOG), asserted the country's position over the Taiwan issue when asked about Taiwan on Thursday.
"What I want to say is that there is only one China in the world. Taiwan is an inalienable part of China. This is a widely recognized principle of international relations and a consensus in international society," said Yan, who was formerly the Chinese envoy to the United Nations.
"The Republic of China is a sovereign state and Taiwan has never been part of the People's Republic of China," MAC said, adding that it condemned China for asserting its politics to interfere with international sports activities.
Taiwan's Ministry of Foreign Affairs (MOFA) rejected the official's claims as "untrue" and said it "undermined the integrity of Taiwan's sovereignty."
View All