Taiwan falls to China 0-4 in Women's Asian Cup opener
Taipei, Jan. 20 (CNA) Taiwan was defeated by China in the opening match of the AFC Women's Asian Cup 2022 in India Thursday, losing 0-4 in the first of three games in the tournament's group stage.
With that loss, Taiwan will have to win its next two games - against hosts India on Jan. 23 and Iran on Jan. 26 - if it is to secure one of the top two spots in Group A and thus progress to the quarterfinals.
In a post-game media interview Thursday, Taiwan midfielder Lai Li-chin (賴麗琴) said China is a very strong team, and Taiwan's defense was not strong enough, but her team had learned some valuable lessons.
"As for the next two games, we hope to put all our effort into winning them so we can advance to the next World Cup," Lin said.
The China team, nicknamed the "Steel Roses," on Thursday opened the scoring just three minutes into the first half of the opening game, as midfielder Wang Shuang (王霜) successfully converted a shot from the 12-yard penalty area, beating Taiwan goalkeeper Cheng Ssu-yu (程思瑜).
Wang took the penalty kick after Taiwan defender Pan Yen-hsin (潘彥昕) fouled China defender Zhang Linyan (张琳艳) at 90 seconds, while they were both racing for the ball.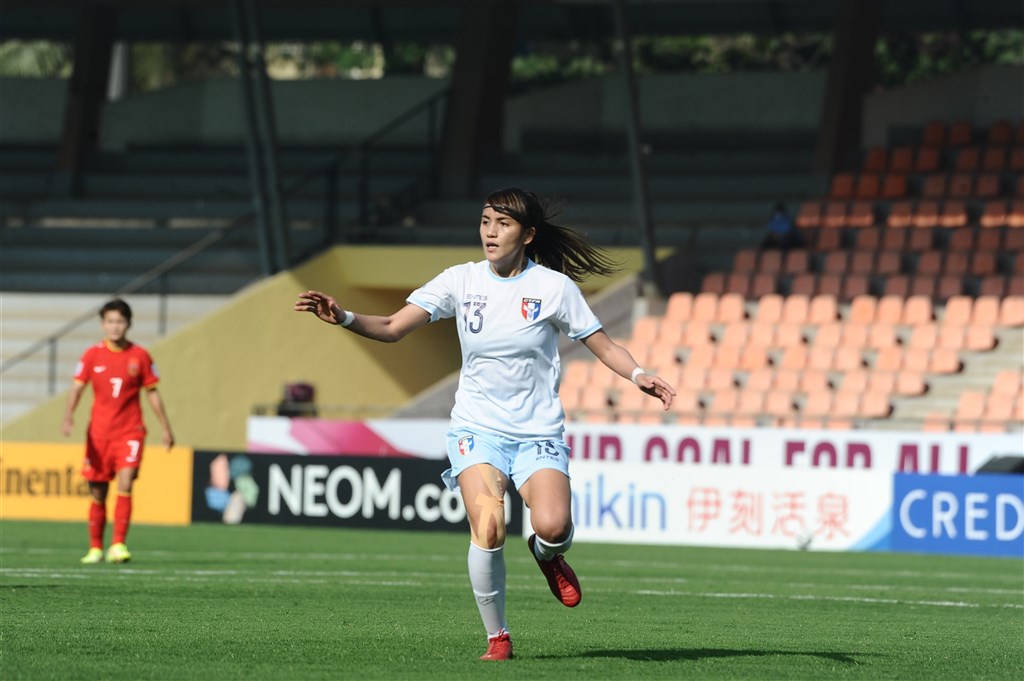 China established an early rhythm, and defender Wang ShanShan (王珊珊) shot a header into the back of the net at nine minutes to score her 53rd international goal, after collecting a cross from teammate Gao Chen (高晨).
As the pressure built against Taiwan, the team rallied with a tighter defense and managed to hold off China for the rest of the first half, despite the latter's 73 percent ball possession.
After the break, China's dominance continued, and in the 54th minute defender Zhang Xin (张馨) collected a pass from Wang and slammed it past Cheng's outstretched hands into the left side of the net, taking the score to 3-0.
Fourteen minutes later, Wang scored again, side-stepping the Taiwan defense to slam China's fourth goal into the back of the net.
With its commanding lead, China kept up the attack, but Taiwan was able to hold off the "Steel Roses" until the whistle blew, with the score at 4-0.
The AFC Women's Asian Cup 2022, the 20th edition of the tournament, saw Taiwan make a return for the first time in 14 years. It is Taiwan's 14th appearance in the continental showpiece, but its first since 2008.
Taiwan's women's soccer team are three-time Asian champions, having won the title in 1977, 1979, and 1981.