Fil-Am Jason Brickman putting on clinic in Taiwan's T1 LEAGUE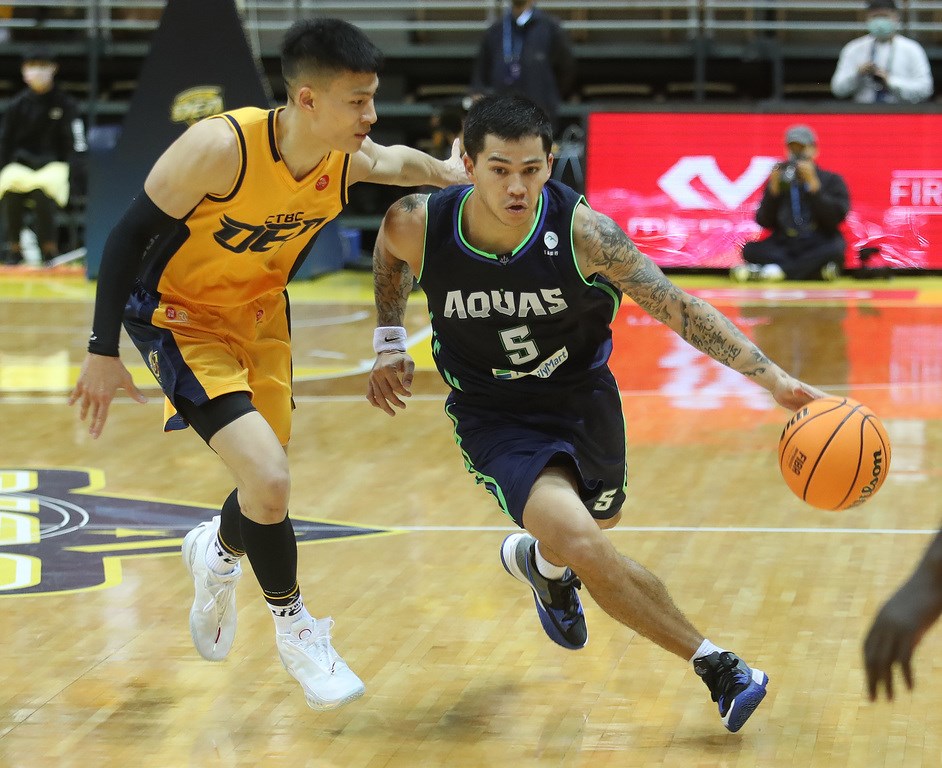 Taipei, Dec. 7 (CNA) The first season of Taiwan's newest professional basketball league, the T1 League, may be only three games old, but it is already evident that Filipino-American point guard Jason Brickman will have a big say in how the season plays out.
Brickman, who plays for the Kaohsiung Aquas, has been instrumental in his team's 2-0 start and will make the Aquas a tough out for any of their opponents.
In the season opener on Nov. 27 against the Taiwan Beer Herobears, he drained a three-pointer with 90 seconds left to pull his team to within 104-103, and then found teammate Mindaugas Kupšas on a nifty pick and roll that set up Kupšas' game-winning free throw in a 107-106 win.
He then fell three assists short of a triple-double in leading the Aquas to a 87-69 victory over the CTBC DEA on Sunday in Xinzhuang Gymnasium in New Taipei, registering 12 points, 10 rebounds, seven assists and two steals.
Brickman's value to the team, however, transcends the stat sheet, according to Aquas head coach Brendan Joyce. The former head coach of the Australian Opals said Brickman's leadership and style of play rubs off on everybody else.
"I think Jason is the best passing point guard in the league, already, from what I've seen," said Joyce, himself a point guard when he played in 289 Australia National Basketball League (NBL) games from 1979 to 1991 and was selected twice as an NBL all-star.
He said Brickman's passing has become infectious, creating a level of unselfishness that led to the team's eye-popping 25 assists against the DEA on Sunday, which made them "very difficult to defend."
"We've only been together for a few weeks. I've put in a lot of stuff, I challenge these guys, but that leadership in that regard comes from Jason," Joyce said.
The coach said he encouraged Brickman to be more aggressive against the DEA, especially if they played off of him to stop his drives to the basket, and he responded.
"He hit some big threes. We encourage that and we get that from Jason, and that type of play rubs off on everybody else."
Perhaps more surprising about Brickman's game Sunday was his 10 rebounds, which Joyce saw as the result of the team's big men unselfishly boxing out their opponents, giving Brickman an opening.
But the Filipino-American was not all that impressed.
"Usually my assists were at 10, so I was surprised my rebounds were at 10," Brickman told CNA. "But I'm not too big on the stats. I'm just glad we got another win. Hopefully we can just keep getting better and keep playing as a team and hopefully keep the streak going in the next game."
The 30-year-old Brickman's talent for making plays stood out during his college career with Long Island University Brooklyn from 2010 to 2014 when he became only the fourth player in NCAA Div. 1 history to record at least 1,000 assists.
Since then, he has an extensive resume playing for clubs around the world.
He is recognized across Southeast Asia for his performance with the Westports Malaysia Dragons team in the regional ABL that won him Finals MVP in 2016, and was also part of the Mighty Sports team from the Philippines that clinched the 2019 William Jones Cup in Taiwan with an 8-0 record.
Now, Brickman is happy to be playing in Taiwan again.
"I was getting ready to play in the 3-on-3 in the PBA, but I saw this opportunity out here to play 5-on-5. I thought it was going to be a good league," he said.
The T1 LEAGUE has a long way to go to achieve success, but based on the early returns, Brickman is doing his part to make a name for the league and the Kaohsiung Aquas.