OLYMPICS
/
Taiwan wins first Olympic table tennis medal in 21 years (update)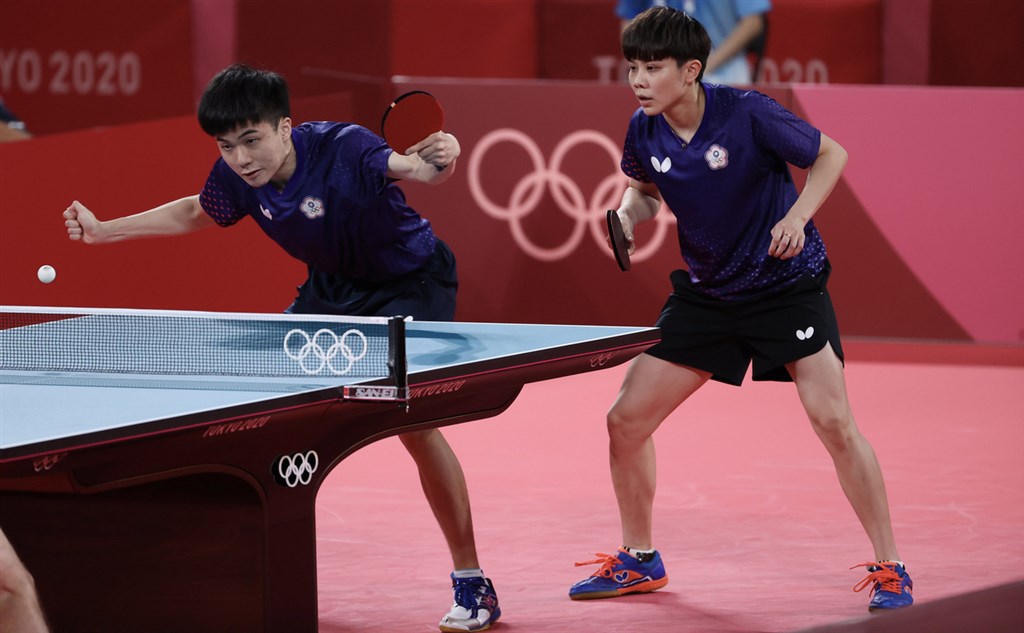 Tokyo, July 26 (CNA) Taiwanese mixed table tennis pair Lin Yun-ju (林昀儒) and Cheng I-ching (鄭怡靜) breezed past their French opponents Monday night to clinch a bronze medal at the Tokyo Olympics, Taiwan's first Olympic table tennis medal in 21 years.
The last time the national squad won a medal was also a bronze medal won by Chen Jing (陳靜) in women's singles at the 2000 Summer Olympics in Sydney.
The world No. 1 Taiwanese duo defeated French pair Emmanuel Lebesson and Yuan Jia-nan 11-8, 11-7, 11-8, 11-5 in 38 minutes in a match they controlled the entire way, never trailing by more than two points in any of the four games.
Monday night's bronze was the fourth medal overall for Taiwan at this year's Olympic Games, and the second one Monday, following a silver by the men's archery team earlier in the day.
It now has two silvers and two bronzes in Tokyo.
Winning the medal was meaningful for all of Taiwan's table tennis players because they can see hope, said their coach Zheng Jiaqi (鄭佳奇).
"Seeing them win this medal, the next generation will feel they have a shot at one as well," she said.
Cheng got emotional and shed tears of joy after the victory but calmed down a little after she saw how collected Lin was.
"I'm still pretty excited. It's always been my dream. I cannot describe how happy I am," she said.
Cheng said she was lucky to have won a medal in her second appearance at the Olympics and thanked Lin, praising his poise despite his being only 19 years old.
She also expressed gratitude to her family, coach, the Sports Administration, trainers at the National Sports Training Center, and all those who have helped them.
Lin said winning the medal helped boost his confidence for future competitions, but he admitted feeling some regret at losing a chance to play for the gold medal after being defeated in the semifinals by their Japanese opponents Sunday.
Cheng was more at peace with the result. "I really wanted to win a gold medal, but I gave it everything I had," she said.
View All