Taiwan loses to Australia; 3rd loss in World Cup football qualifier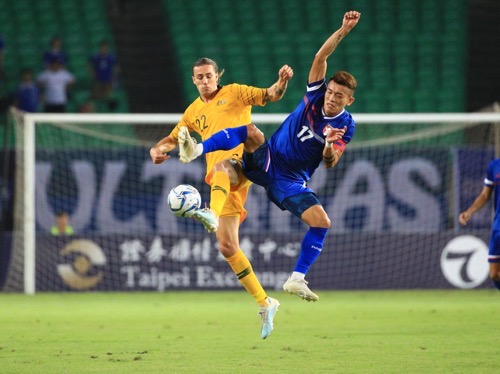 Taipei, Oct. 15 (CNA) Taiwan's national football team was crushed by Australia Tuesday in its third game in the second round of qualifiers for the 2022 World Cup.
Video courtesy of Chinese Taipei Football Association
Taiwan, ranked 129th in the FIFA world rankings, was defeated by world 44th Australia 7-1 at the Kaohsiung National Stadium in the third of a series of matches to be played to qualify for FIFA World Cup Qatar 2022.
After defeats 2-1 to Jordan and 2-0 to Nepal on home territory, Taiwan was eager to score in front of a home crowd.
However, the Australian Socceroos took control early in the game, with their first two goals scored by forward Adam Taggart, 12 and 19 minutes into the match.
Taiwan managed to squeeze in one goal after a header by defender Chen Yi-wei (陳毅維) 21 minutes in, but the Taiwanese offensive was quickly put to rest after Australian midfielder Jackson Irvine pocketed two consecutive goals at 34 and 36 minutes.
The first half ended with Australia leading 4-1.
Photo courtesy of Chinese Taipei Football Association
Photo courtesy of Chinese Taipei Football Association
The second half kicked off with Australian defender Harry Souttar scoring a set piece goal 74 minutes into the match, which was followed by another goal by forward Jamie Maclaren at 84 minutes.
Souttar put in another header from a set piece at 88 minutes to wipe out any chance of a Taiwanese comeback.
Before the match, Taiwan had a head-to-head record of 12 losses and one draw against Australia.
Photo courtesy of Chinese Taipei Football Association
Photo courtesy of Chinese Taipei Football Association
After the match, Chen, who scored Taiwan's only goal, said that "the set up was nice and I took the opportunity to score, but the goal was a team effort and not my own."
He hopes that Taiwan's defense will become better from gaining experience in the past three games, he added.
Meanwhile, Taggart, who scored two of his team's seven goals for Australia, said Taiwan set up defensively and was hard to break down.
"We were looking to get crosses in the box, especially early when they weren't set, and it worked a couple times and we got some good goals in there," he said.
"I thought it was a good performance all round and we dominated the game," Taggart said.
Winless Taiwan will next face Kuwait Nov. 14, Jordan Nov. 19, Nepal March 26, 2020, Australia April 26, 2020, and Kuwait June 9, 2020, in Group B of the second round of the Asian qualifiers. There are a total of eight groups.
The winners of the eight groups and the four best group runners-up will progress into the third round.
Photo courtesy of Chinese Taipei Football Association