Taiwanese table tennis duo falls in final at Czech Open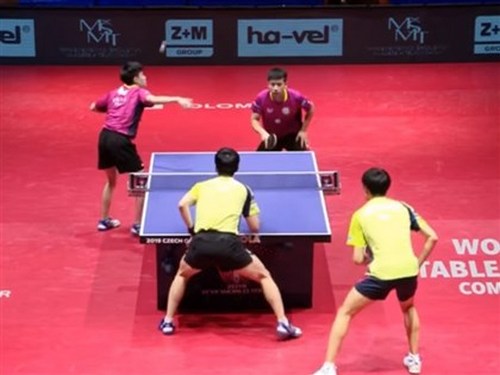 Taipei, Aug. 25 (CNA) Taiwan's Lin Yun-ju (林昀儒) and Liao Cheng-ting (廖振珽) fell short in their bid to clinch the men's doubles title at the Czech Open on Saturday, losing in four games to Korean opponents.
The Taiwanese duo lost to the Korean pair of Cho Daeseong and Lee Sangsu 11-4, 11-8, 7-11, 11-6 to finish as the runner up in the men's doubles event.
Lin and Liao got off to a bad start, losing the first two sets 4-11 and 8-11, when encountering their tough Korean opponents.
In the third set, after falling behind the Koreans 2-4, the Taiwan pair came back to win 11-7.
However, in the fourth set, despite taking a 3-1 lead, Lin and Liao eventually lost to the Korean duo 6-11.
Lin and Liao had previously cruised through to the men's doubles final after beating their opponents in three straight sets in the first three rounds.
Lin, 18, will face off with German legend Timo Boll, who have won the European championship seven times, in the men's singles semifinal on Sunday for a place in the final.
Lin scored an easy four-game quarterfinal victory over Japan's Yuki Hirano 11-1, 11-9, 11-7, 11-7 on Friday.