Young Taiwanese badminton player wins men's singles at U.S. Open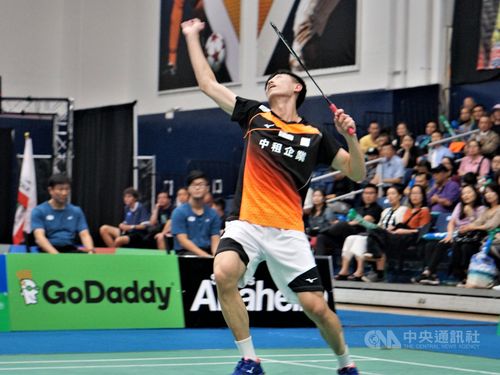 Los Angeles, July 14 (CNA) Lin Chun-yi (林俊易) of Taiwan clinched the 2019 YONEX U.S. Open badminton title Sunday when he defeated his Thai opponent in the men's singles final of the tournament.
The 19-year old underdog, who is No. 122 in the Badminton World Federation (BWF) rankings, beat World No. 56 Tanongsak Saensomboonsuk 21-10, 21-13 in a fast-paced game that lasted just 30 minutes.
The tournament also marked Lin's first attempt at the HSBC BWF World Tour Super 300 series title since turning professional in 2018.
Speaking after the game, Lin thanked his family and coach Huang Po-yi (黃博翊) for their support and encouragement.
Having confronted many of the players for the first time, Lin said he studied each opponent prior to a game, and watched many videos with his coach to come up with ways to defeat them.
Other than that, Lin said, he has been concentrating on his fitness.
Although lacking international experience, Huang said Lin is a fast learner who is willing to pick up new things.
He is the first Taiwanese in seven years to win the U.S. Open championship title, after Pai Hsiao-ma (白驍馬), who won the women's singles in 2012.
Also Sunday, Taiwan's Lee Jhe-huei (李哲輝) and Hsu Ya-ching (許雅晴) beat Thom Gicquel and Delphine Delrue of France 21-17, 21-17 to take the mixed doubles title at the tournament.
It was a decisive and aggressive game, and everything went by the book, the two said.
Lee, who is still nursing an old injury, said he was not in top form, and felt it hard to reach some of his opponents' shots.
After the match, Hsu said she is going to prepare for the women's doubles at the Blibli Indonesia Open, which will be held later this week, while Lee said he will head to his next championship in India to compete in the men's doubles.
The 2019 U.S. Open, held in Fullerton, California July 9-14, is the 13th tournament of the 2019 BWF World Tour. It has a total purse of US$150,000.