PGA Tour win catapults Taiwanese golfer up world rankings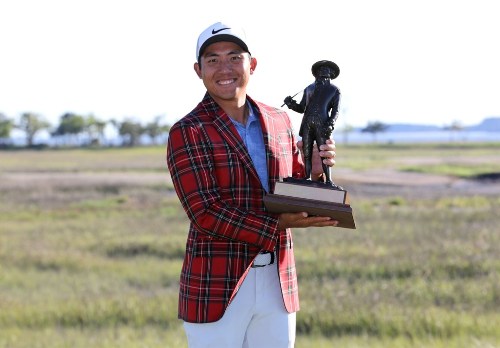 Taipei, April 23 (CNA) Taiwan's Pan Cheng-tsung (潘政琮) has shot up the world golf rankings after winning the PGA Tour RBC Heritage title this past week.
Pan, who was ranked 100th in the world at the end of 2018 and 113th going into the tournament, has moved up to 55th in the world following his victory with an average of 2.30 points per event, according to the latest Official World Golf Ranking.
The rankings reflect golfers' results over the past two years in tournaments around the world, with performances in the last 13 weeks weighing more heavily than those in the previous 91 weeks.
American Dustin Johnson ranks first with 9.73 points per event, followed by Britain's Justin Rose and American Brooks Koepka. Tiger Woods is sixth.
In winning the RBC Heritage by one shot over American Matt Kuchar, Pan became the first Taiwanese golfer to win a PGA Tour title since T.C. Chen (陳志忠) won the Los Angeles Open in February 1987.
His US$1,242,000 first prize also vaulted him up to 29th on the PGA Tour money list with US$1,675,485 in winnings in 15 events played this year.
Kuchar tops the list with winnings of US$5,394,944 from 13 events played.
Pan also moved up to 26th in the FedEx Cup standings, the rankings that determine the 125 PGA Tour players who keep their playing privileges in the following year.
enditem/ls