Lions pitcher makes history with first perfect CPBL game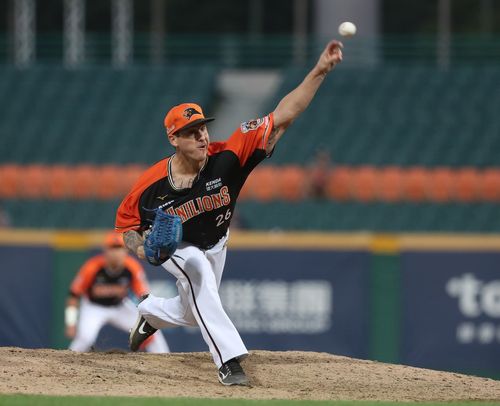 Taipei, Oct. 8 (CNA) For the first time in 29 years Taiwan's professional baseball league recorded its first perfect game in dramatic fashion Sunday night when Uni-President 7-Eleven Lions pitcher Ryan Verdugo threw nine perfect innings.
Video source: 中華職棒CPBL YouTube Channel
The former Kansas City Royal pitched nine perfect innings against the Chinatrust Brothers in a Chinese Processional Baseball League (CPBL) regular season game at the Lions home stadium.
A perfect game means a hurler pitches a minimum of nine innings in which no opposing player reaches base.
The right-hander, however, did not earn a win after retiring 27 Brothers batters in a row, as the Lions had not scored.
Video source: 中華職棒CPBL YouTube Channel
It was not until third baseman Kuo Fu-Lin (郭阜林) led off the ninth inning with a walk-off home run that Verdugo earned his perfect game, the first of his career and also in the history of the CPBL.
"That (perfect game) was awesome," Verdugo said. "It was a team win. Everybody made plays."
He particularly thanked catcher Lin Yu-Le (林祐樂), saying they were both on the same page all night.
"He was unbelievable," Verdugo said.
The 31 year-old California-based Verdugo threw 92 pitches and struck out 8 on the historic night.
Meanwhile, Kuo said he had only one thought when he stepped onto the home plate at the bottom of the ninth.
"I wanted to hit the ball over the fence to get this win," Kuo, commenting on his walk-off homer.
In the 140 years of Major League Baseball history, more than 210,000 games have been played but the perfect game has been achieved only 23 times -- 21 times since the modern era began in 1900. None of them, however, were achieved in a walk-off homerun.