Pop star Jay Chou marries Quinlivan again in second wedding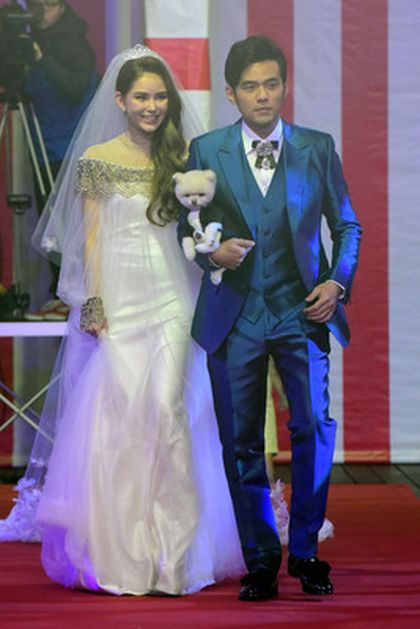 Taipei, Feb. 9 (CNA) Taiwanese Mandopop king Jay Chou (周杰倫) married wife Hannah Quinlivan (昆凌) again on Monday in a second wedding ceremony for family and friends in Taipei.
The bride, dressed in a white wedding gown, walked down the aisle arm-in-arm with Chou and her dog sitting on their arms, accompanied by the singer's song "A Journey Diary about Love" in the background.
The wedding took place in an outdoor pool area on the 10th floor of the upscale W Hotel. Scented candles were placed at the entrance of the venue, which was decorated like a circus tent with the swimming pool the center of attention.
[Photo courtesy of JVR Music International]
A red carpet laid out on an elevated platform in the swimming pool led to a main stage featuring two wooden horses, while dinner tables were placed on the two long sides of the pool.
Chou's grandmother, in her 90s, said Chou was her first grandchild to get married and she was very happy to attend the wedding.
Among the celebrities who attended the event were singers Jody Chiang and Fei Yu-ching, TV host Chang Fei, hostesses Chang Hsiao-yen and Matilda Tao and actor Eric Tsang.
Chou, 36, and Quinlivan, 21, tied the knot in a lavish wedding in Britain on Jan. 18.
(By Wang Ching-yi and Christie Chen)ENDITEM/ls
Related stories:●Jan. 19: Jay Chou releases wedding video●Jan. 18: Pop star Jay Chou gets married in lavish British style●Jan. 17: Singer Jay Chou releases pre-wedding photos
[Photo courtesy of JVR Music International]