Newly formed Tropical Storm Koinu heading to Bashi Channel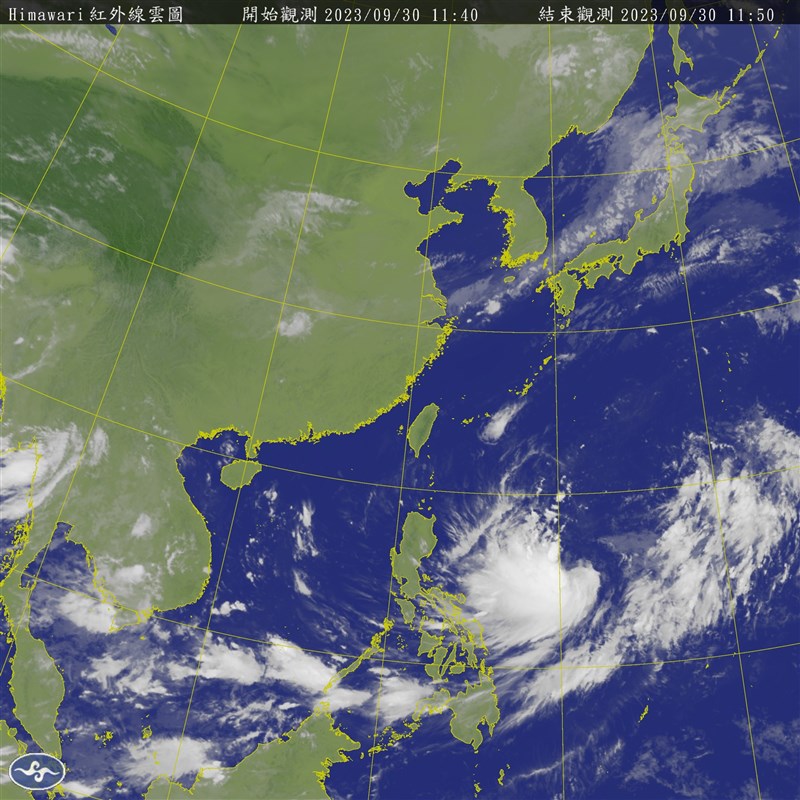 Taipei, Sept. 30 (CNA) Tropical Storm Koinu, which formed early Saturday morning, is moving towards the Bashi Channel south of Taiwan, and a sea warning may be issued for the country next week, according to the Central Weather Administration (CWA).
As of 2 a.m. Saturday, Koinu was located 1,480 kilometers east-southeast of Taiwan and was moving in a west-northwestly direction at 12 kilometers per hour, the CWA said.
The storm, the 14th in the Pacific this season, was packing maximum sustained winds of 65 kph, with gusts of up to 90 kph, the CWA said.
Based on its current movement, Koinu is likely to enter the Bashi Channel south of Taiwan next week, which may prompt a sea warning, while further observation would be required before a land warning could be issued, CWA forecaster Chao Hung (趙竑) told CNA.
Koinu will begin affecting Taiwan on Oct. 4, bringing rain to eastern Taiwan, Chao said, adding that the effects on other parts of the country will depend on the storm's path.
On Saturday, meanwhile, sunny skies were expected to prevail across most of the country, while northeastern Taiwan was forecast to have heavy cloud cover and some rain in mountainous areas, according to the CWA. It said brief showers were likely in Keelung, the greater Taipei area and Taoyuan.
Daytime temperatures of 32-34 degrees Celsius were forecast for Saturday, while the mercury was expected to drop to 25-27 degrees at night, according to the CWA.
An "orange" heat alert was issued for Miaoli County in northern Taiwan on Saturday, indicating highs of 36 degrees for three days in a row, the CWA said, advising people to take precautions against sunburn and dehydration when outdoors.
The highs around Taiwan are expected to fall slightly to 30-32 degrees Sunday, and 30-31 degrees Monday, as the current northeasterly winds strengthen, the CWA said.
The air quality in Taiwan was rated Saturday as "good" to "fair," as the northeasterly winds were helping to disperse air pollutants across most of the country, according to the Environmental Protection Administration.