Tropical Storm Saola could bring periodic showers starting Aug. 31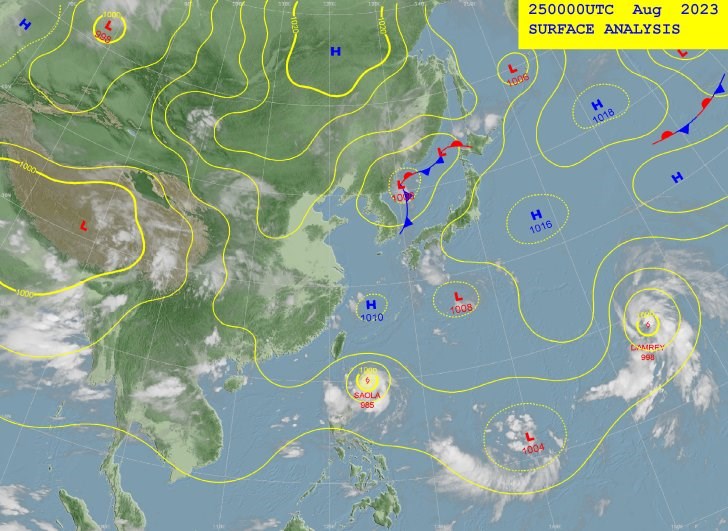 Taipei, Aug. 24 (CNA) The periphery of Tropical Storm Saola could bring periodic showers to areas in Taiwan starting Aug. 31, the Central Weather Bureau (CWB) said Thursday.
The tropical storm, formed in waters east of the Philippines at 2 p.m. on Thursday, is currently sitting largely stationary about 460 kilometers east-southeast of Eluanbi, Taiwan's southernmost point, according to the CWB.
Speaking with CNA, CWB forecaster Liao Ching-hsiang (廖經翔) said the storm still has room to grow, and could become a typhoon on Aug. 27, making its impact on Taiwan more palpable.
Liao said Saola's path could start to change on Aug. 27 due to the weakening of Pacific high pressure, potentially shifting northwest starting Aug. 29.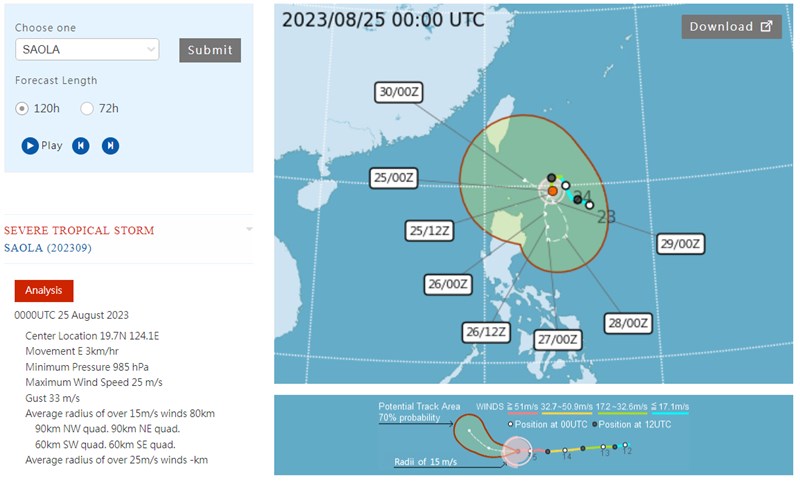 By Aug. 31, the periphery of Saola could bring periodic showers to the eastern half of Taiwan as well as locations in the south and mountainous areas in the north.
However, Liao also added that forecasting models from around the world display varying predictions on the storm, meaning that more accurate projections will only become available at a later date.
Meanwhile, another tropical depression, sitting largely stationary in the sea northeast of Guam, is unlikely to affect Taiwan in the near term, Liao said.
On the weather forecast for the next few days, Liao said Taiwan will still experience periodic thunderstorms on Friday.
From Saturday until next Monday, most of the country will be cloudy with a chance of sunny skies.
The southeastern areas in Taiwan, the Hengchun Peninsula, Orchid Island and Green Island will need to watch out for ocean swells, while Yunlin, Kaohsiung, Pingtung, Taitung and Hualien Counties will need to be vigilant as temperatures could reach above 36 degrees Celsius.
➤ Please check the Central Weather Burea's website for the latest weather advisories.