Taipei launches free sedative tests amid preschool drugging fear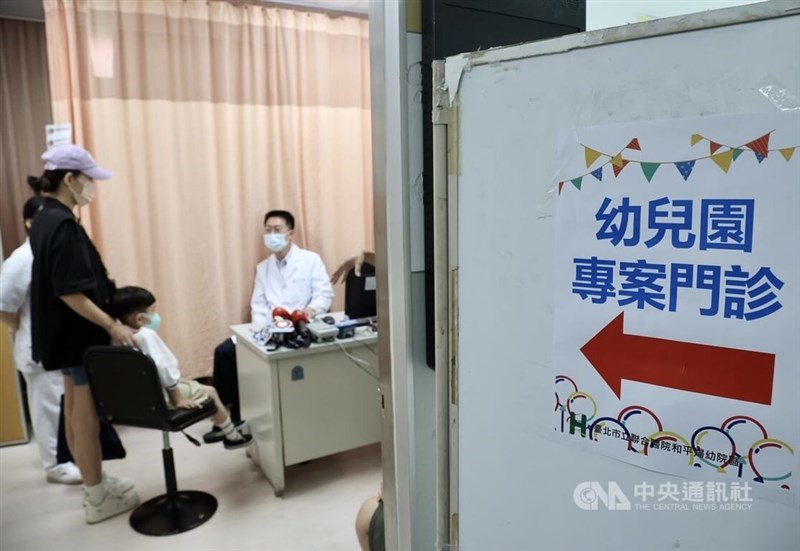 Taipei, June 17 (CNA) The Taipei City Hospital on Saturday began to provide preschoolers free blood tests to check for traces of sedatives after a New Taipei preschool allegedly drugged children under its care.
The tests are being made available after Taipei Mayor Chiang Wan-an (蔣萬安) on Friday ordered local authorities to inspect the city's preschools to see if there is any drugging of students.
This follows the aftermath of an alleged New Taipei sedation case that has since triggered widespread fear among parents in Taiwan.
The tests for phenobarbital, which is a type of barbiturate, are offered at five branches of the Taipei City Hospital -- Renai, Zhongxiao, Zhongxing, Yangming and Heping Fuyou.
Online registration is required beforehand, and parents need to present their child's national health insurance card and a phenobarbital test notice issued to them by the Taipei Department of Education through their children's preschools.
Wang Chung-hao (王中豪), a pediatric neurologist with the Heping Fuyou branch, said if parents find their children depressed, restless, or sleeping abnormally, they can register online for a free medical examination for their children as long as they are enrolled in a Taipei preschool.
The blood sampling will be conducted through an immunological method without the need for a urine test, Wang said, adding that the results will be available within a week.
The free test only covers phenobarbital, and if parents want their children to also get tested for benzodiazepines -- depressants that produce sedation -- they will have to pay for it on their own, he said.
In instances where a child's test results exceed the set threshold of 1 microgram per milliliter, medical teams will provide follow-up care and support, the physician added.
Meanwhile in New Taipei, the Tucheng Hospital on Saturday tested 81 students at a preschool in the city's Xizhi District for sedative drugs, including benzodiazepines, after a student there recently showed traces of the controlled sedative medication.
The city's Department of Health said the test results will be available in two to three days.
The head of the department Chen Ran-chou (陳潤秋) said a total of 131 students are enrolled at the Xizhi preschool, and so far, 81 children were tested, with the consent of their parents.
The parents of 47 children chose not to go through with the test, while three were still thinking about it, the department said.
New Taipei Mayor Hou Yu-ih (侯友宜) and his administration have come under fire after reports emerged in May that eight students in a Banqiao District preschool had traces of barbiturates in their bodies.
It was those reports that led the parents of the child in Xizhi to have their child tested for controlled substances on June 9.
In a news release, the National Federation of Teachers Unions (NFTU) said the alleged drugging case in New Taipei has tarnished the image of educators. It appealed for the investigation to shed light on the matter as soon as possible.
The ruling Democratic Progressive Party (DPP) has criticized Hou's government for dragging its feet in holding the Banqiao preschool responsible and in providing assistance to the affected children and their parents.
Hou is currently the opposition Kuomintang's presidential candidate.
However, Chiang I-chen (江怡臻), a spokesperson for Hou's campaign office, responded Saturday that the DPP has been spreading misinformation and is only trying to instill fear and panic among the populace in order to score political points for the ruling party and its candidate ahead of the presidential election.
Chiang pointed out the investigation is in the hands of prosecutors and it is still unclear where the drug came from, whether the children were indeed drugged, and whether their health has been affected. She said Hou and the New Taipei City government is also urging the investigators to quickly get to the bottom of what happened.