Taiwan lifts sea warning for Typhoon Mawar as storm heads to Japan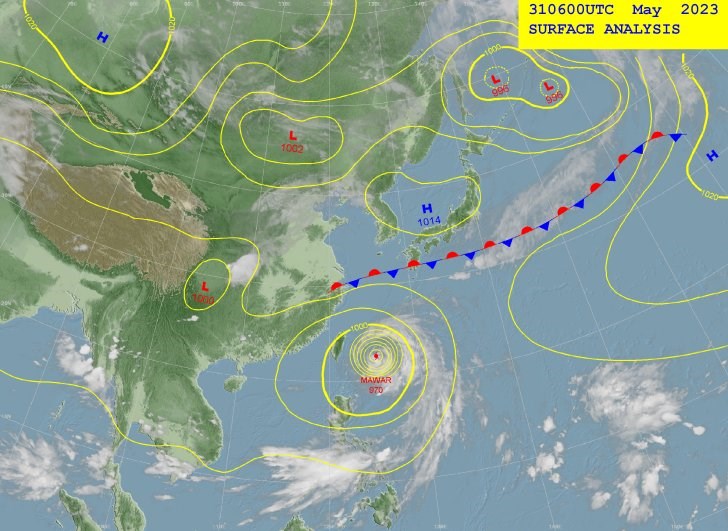 Taipei, May 31 (CNA) The Central Weather Bureau (CWB) on Wednesday lifted a sea warning for Typhoon Mawar, but warned several regions across Taiwan could still face heavy rainfall and strong winds.
The sea warning was lifted at 5:30 p.m. as the weakened typhoon no longer poses a threat to waters off eastern Taiwan and in the Bashi Channel, the CWB said.
As of 5 p.m., Mawar -- the second named storm in the western North Pacific and the South China Sea this year -- was located 470 kilometers east of east-northeast of Taiwan's southernmost tip, Eluanbi, moving north-northeast at 13 km per hour, according to the bureau.
The typhoon was packing maximum sustained winds of 119 kilometers per hour with gusts of up to 155 kph, as it moved through the southern islands of Japan, the latest weather data showed.
Update: Typhoon Mawar causes flight disruption to Okinawa on Thursday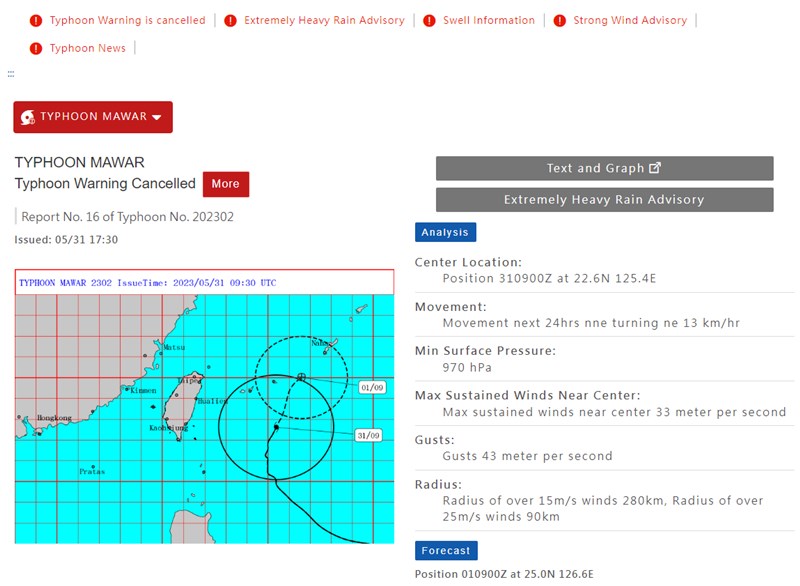 While the Typhoon is moving away from Taiwan, its peripheral will still bring heavy rainfall to several parts of the island, according to the bureau's latest heavy rain alert.
The CWB warned of the possibility of extremely heavy rainfall in Keelung, New Taipei, and the mountainous parts of Yilan County, Taoyuan and Taichung for the rest of Wednesday.
During the bureau's press briefing at 5:40 p.m., forecaster Chu Mei-lin (朱美霖) said that as of 5 p.m. Wednesday, New Taipei had recorded 192 millimeters of rainfall, Yilan 179.5 mm, Taoyuan 137.5 mm and Taipei 133.5 mm.
Afternoon thunderstorms were also observed in central and southern Taiwan, she added.
(Please visit the Central Weather Bureau's website for the latest advisories).
Significant rainfalls are expected in northern Taiwan and Yilan County, as well as the mountainous areas in central and southern Taiwan during the daytime on Thursday, Chu said
The eastern counties of Hualien and Taitung will first see eased rainfall on Thursday, before the rain gradually stops in northern Taiwan that evening, according to Chu.
On Friday, northern and eastern Taiwan may still see sporadic showers and afternoon thunderstorms in central and southern Taiwan before the weather turns cloudy and sunny on Saturday, Chu said.
However, there is still a chance of afternoon thunderstorms in southern Taiwan and the mountainous area in central Taiwan, Chu added.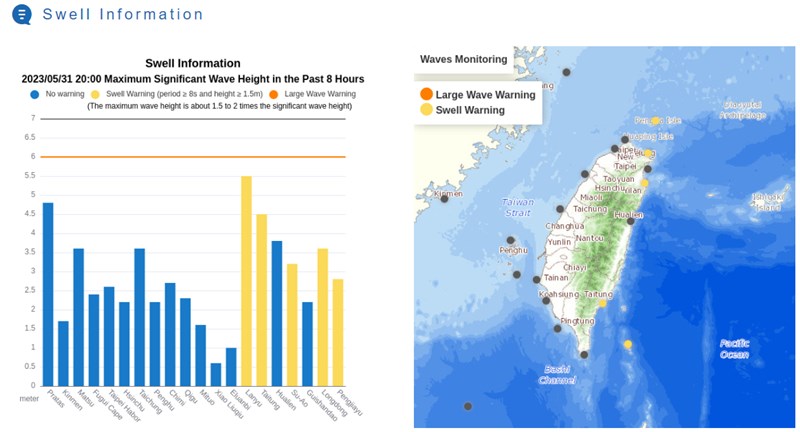 Chu also warned about high waves along the coast of northern, eastern Taiwan, as well as Eluanbi Wednesday, while strong winds are forecast to remain in coastal areas and open coastal spaces between Miaoli County and Tainan, on islands of Penghu in the Taiwan Strait, and Orchid Island and Green Island southeast of Taiwan.
The strong winds are expected to last until Friday, Chu said.