CORONAVIRUS
/
Taiwan reports 9,062 new COVID-19 cases, 37 deaths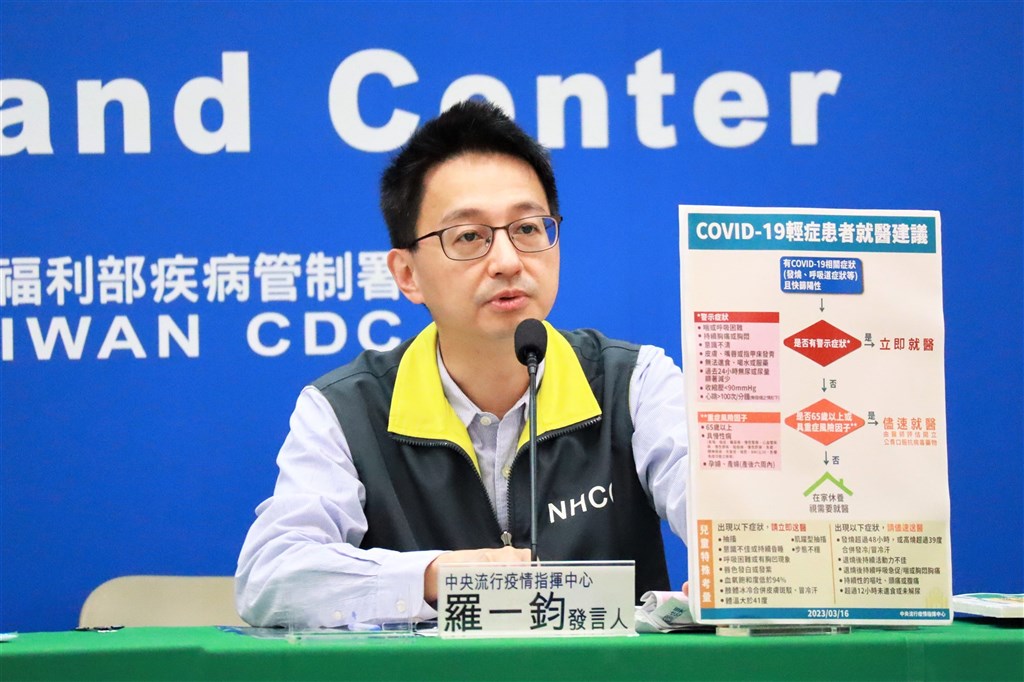 Taipei, March 16 (CNA) Taiwan's Central Epidemic Command Center (CECC) reported 9,062 new cases of COVID-19 and 37 deaths from the disease on Thursday.
Among the new infections, 8,855 were domestic, which represented a 5.8 percent drop from the same day a week earlier, according to the CECC.
Domestic cases from March 5 to March 11 totaled 64,558, representing a drop of 17.7 percent compared with the preceding week's total of 78,463, Deputy Minister of Health and Welfare Victor Wang (王必勝) said, citing CECC data.
Wang added that the number of weekly domestic cases has declined steadily for six consecutive weeks since Jan. 29.
Also on Thursday, CECC spokesperson Lo Yi-chun (羅一鈞) said over the past week there was one case of multisystem inflammatory syndrome in children (MIS-C) involving an unvaccinated 2-year-old baby boy.
He was discharged from hospital after responding positively to treatment.
Eased rules to take effect March 20
Meanwhile, the CECC reminded the public that Taiwan will relax its COVID-19 rules starting March 20.
According to the new rules, those who test positive using a COVID-19 rapid test but display only mild or no symptoms will no longer have to report themselves as infected and self-isolate, but will rather be subjected to self-initiated health monitoring.
People should seek medical attention as soon as possible after testing positive if they develop severe symptoms or if they are high risk, so they can be provided with oral antiviral medication, including seniors aged 65 or older, pregnant women and those with underlying health issues, Lo added.
However, medical staffers with mild symptoms should stay at home for at least five days from the day they test positive, Lo said. In addition, their places of work should still pay them during the period they are at home.
Such individuals can resume work earlier if they test negative within five days, Lo said, adding that if their places of work ask them to return even though they are still positive, their responsibilities should be adjusted accordingly with a focus on helping patients with COVID-19.
To date, Taiwan has recorded 10,143,788 COVID-19 infections and 18,371 deaths from the disease since the pandemic began in early 2020.
The CECC announced on Feb. 23 that it would stop releasing detailed daily information on new COVID-19 cases and deaths.
Related News
March 16: Plan to phase out Pfizer-BioNTech COVID-19 vaccine halted
March 6: Mask-wearing persists despite lifting of Taiwan's on-campus mandate
March 3: Taiwan to purchase more monkeypox vaccine doses: CDC
March 1: Taiwan records first two local monkeypox cases
Feb. 23: New COVID vaccination campaign planned in March, annual jab from 2024
Recent cases
March 15: Taiwan reports 10,188 new COVID-19 cases, 42 deaths
March 14: Taiwan's new daily local COVID-19 cases remain below 10,000
March 13: Taiwan records lowest number of domestic COVID-19 cases in 321 days
March 12: Taiwan reports 9,093 new COVID-19 cases, 39 deaths
March 11: Taiwan reports 8,618 new COVID-19 cases, 48 deaths
March 10: Taiwan reports 9,098 new COVID-19 cases, 54 deaths
March 9: Taiwan reports 9,584 new COVID-19 cases, 49 deaths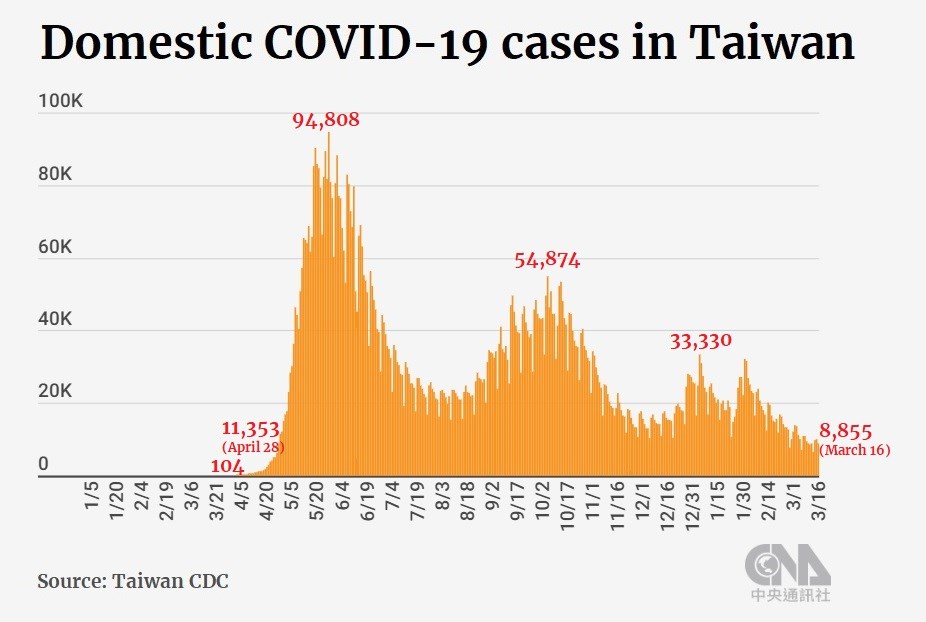 Latest COVID-19 rules
● Taiwan to loosen COVID-19 protocols for migrant worker entry
● Taiwan's eased indoor mask mandate takes effect Feb. 20
● COVID-19 testing for overseas arrivals dropped from Feb. 7 (2023)
● Revised protocol for hospital visits from Dec. 10

● Taiwan to stop paying COVID medical fees for certain foreign nationals
● Taiwan to remove weekly arrival cap on Dec. 10
● Taiwan cuts COVID isolation to 5 days, lifts workplace vaccine mandates (Nov. 14)
● Taiwan to further ease border rules for China, Hong Kong, Macau residents
View All