CORONAVIRUS
/
Taiwan reports 14,387 new COVID-19 cases, 37 deaths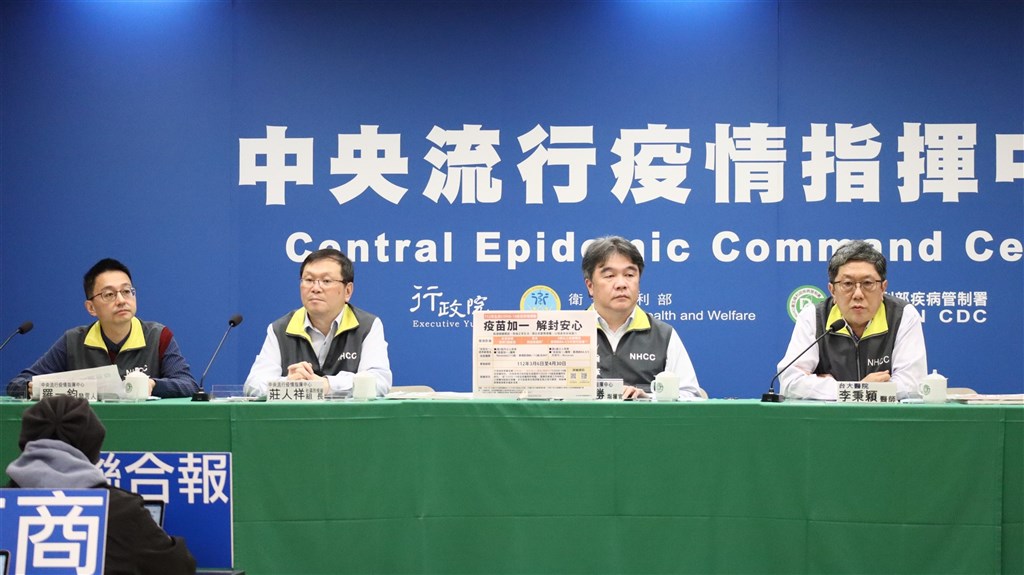 Taipei, Feb. 23 (CNA) Taiwan on Thursday reported 14,387 new cases of COVID-19 and 37 deaths from the disease, according to the Central Epidemic Command Center (CECC).
The 14,083 domestic cases represented a 14.5-percent drop from the same day a week earlier, CECC data showed.
The deceased ranged in age from their 50s to their 90s. All but one of them had underlying health conditions, while 20 had not received at least three COVID-19 vaccine shots, the CECC said.
Also on Thursday, the CECC reported 98 new COVID-19 cases classified as moderate and 35 as severe.
Regional breakdown
Regionally, New Taipei recorded the highest number of new cases, with 2,685, followed by Kaohsiung with 1,718 and Taoyuan with 1,691.
Taichung reported 1,555 cases, Taipei 1,277, Tainan 1,251, Changhua 659, Hsinchu County 390, Pingtung 384, Hsinchu City 338, Miaoli 322, Yilan 315 and Yunlin 290.
Hualien had 236 cases, Keelung 235, Chiayi County 225, Nantou 211, Chiayi City 132, Taitung 92, Kinmen 39, Penghu 31 and the Matsu Islands seven, the CECC said.
To date, Taiwan has recorded 9,985,320 COVID-19 cases since the pandemic began in early 2020.
With the 37 deaths reported Thursday, the total number of confirmed COVID-19 fatalities in the country rose to 17,709.
Related News
Feb. 20: Taiwan to stop COVID-19 rapid test kits to overseas arrivals
Feb. 20: President Tsai responds to first day without indoor face mask mandate
Feb. 20: HK visitors eye eateries, night markets as independent travel reopens
Feb. 6: Taiwan begins phasing out Pfizer-BNT as first vaccine shot for minors
Feb. 2: Taiwan's ACIP head predicts regular COVID-19 vaccines won't be necessary
Jan. 18: Expert predicts new wave of COVID subvariants to come, peak in March
Recent cases
Feb. 22: Taiwan reports 16,484 new COVID-19 cases, 64 deaths
Feb. 21: Taiwan reports 17,253 new COVID-19 cases, 44 deaths
Feb. 20: Taiwan reports 12,060 new COVID-19 cases, 44 deaths
Feb. 19: Taiwan reports 15,877 new COVID-19 cases, 68 deaths
Feb. 18: Taiwan reports 15,094 new COVID-19 cases, 55 deaths
Feb. 17: Taiwan reports 15,440 new COVID-19 cases, 78 deaths
Feb. 16: Taiwan reports 16,747 new COVID-19 cases, 61 deaths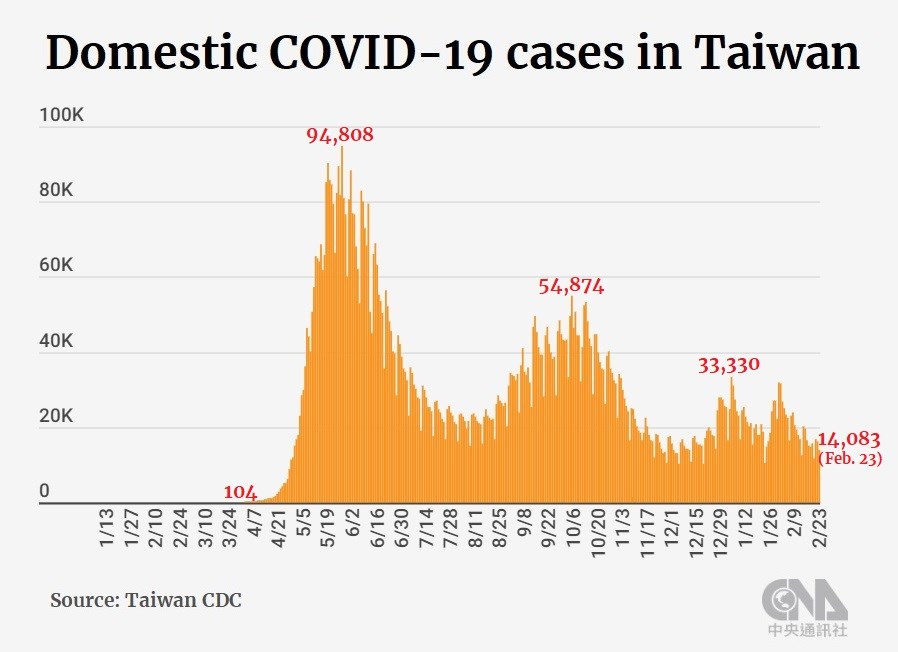 Latest COVID-19 rules
● Taiwan's eased indoor mask mandate takes effect Feb. 20
● COVID-19 testing for overseas arrivals dropped from Feb. 7 (2023)
● Revised protocol for hospital visits from Dec. 10

● Taiwan to stop paying COVID medical fees for certain foreign nationals
● Taiwan to remove weekly arrival cap on Dec. 10
● Taiwan cuts COVID isolation to 5 days, lifts workplace vaccine mandates (Nov. 14)
● Taiwan to further ease border rules for China, Hong Kong, Macau residents
View All