CORONAVIRUS
/
Taiwan to lift COVID-19 testing on travelers from China from Feb. 7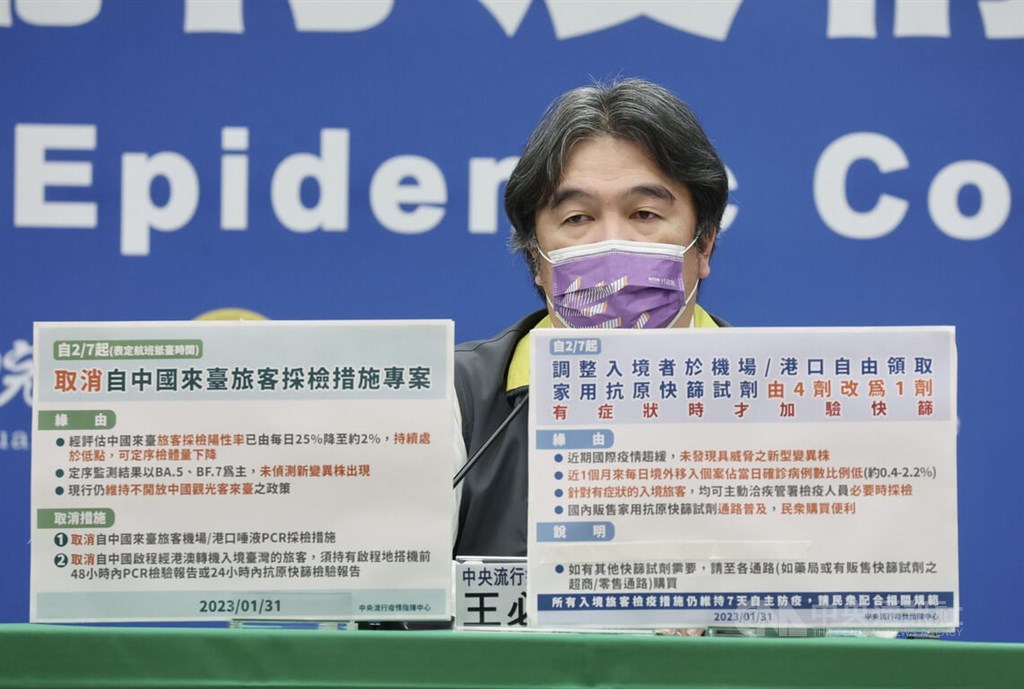 Taipei, Jan. 31 (CNA) Taiwan will no longer require travelers from China to undergo a saliva COVID-19 test when they arrive in the country from Feb. 7, the Central Epidemic Command Center (CECC) said Tuesday.
The policy change will apply to those on flights from the four Chinese cities -- Beijing, Shanghai Chengdu and Xiamen -- that currently have direct flights to Taiwan, as well as Taiwan citizens arriving from the outlying Kinmen and Matsu Islands, the CECC said.
The testing, which was introduced on Jan. 1, is no longer necessary as the COVID-19 positivity rate of travelers arriving from China had dropped from an initial high of around 25 percent to 2 percent as of last week, according to CECC head Victor Wang (王必勝) in a press briefing.
Citing the latest figure on Jan. 29, Wang said the positivity rate was only 1.1 percent of 922 visitors from China and 0.7 percent among 137 arrivals from Kinmen and Matsu.
In addition, the dominant COVID-19 viruses found in COVID-19 cases from China remain Omicron BA.5 and BF.7 sub-variants, suggesting a lower risk, he said.
Accordingly, the CECC will also end a rule on Feb. 7 that requires travelers from China who transfer through Hong Kong or Macau to present a negative COVID-19 PCR test result from within 48 hours of their departure, or a rapid test from within 24 hours of departure.
The CECC's testing policy primarily targets returning Taiwanese citizens and Chinese traveling to Taiwan on business, for study or to visit their families, as Chinese tourists are still banned from entering Taiwan.
Meanwhile, starting Feb. 7, all passengers arriving at Taiwan's airports or seaports will only receive one free rapid test instead of four as the pandemic has shown signs of easing globally, Wang said.
Testing is only necessary for arriving travelers with suspected COVID-19 symptoms, he added.
Although the test requirement will be lifted, travlers who arrive in Taiwan on or after Feb. 7 will still have to follow other restrictions introduced on Oct. 13, 2022, which can be found here.
Related News
Jan. 31: Taiwan set to relax indoor mask mandate
Jan. 30: New round of COVID-19 rapid test rationing to start Feb. 1
Jan. 18: Expert predicts new wave of COVID subvariants to come, peak in March 
Recent cases
Jan. 31: Taiwan reports 32,287 new COVID-19 cases, 32 deaths
Jan. 30: Taiwan reports 22,291 new COVID-19 cases, 30 deaths
Jan. 29: Taiwan reports 27,350 new COVID-19 cases, 22 deaths
Jan. 28: Taiwan reports 27,444 new COVID-19 cases, 20 deaths
Jan. 27: Taiwan reports 24,350 new COVID-19 cases, 15 deaths
Jan. 26: Taiwan reports 19,144 new COVID-19 cases, 21 deaths
Jan. 25: Taiwan reports 16,518 new COVID-19 cases, 22 deaths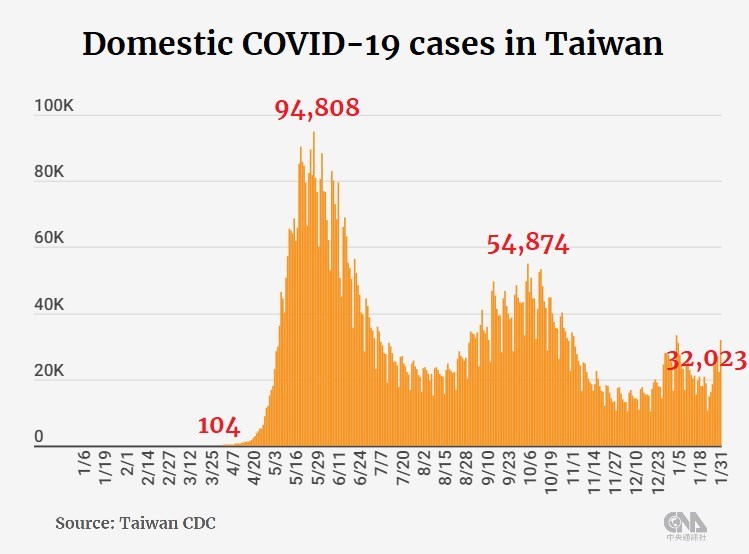 View All