CORONAVIRUS
/
Taiwan reports 16,052 new COVID-19 cases, 65 deaths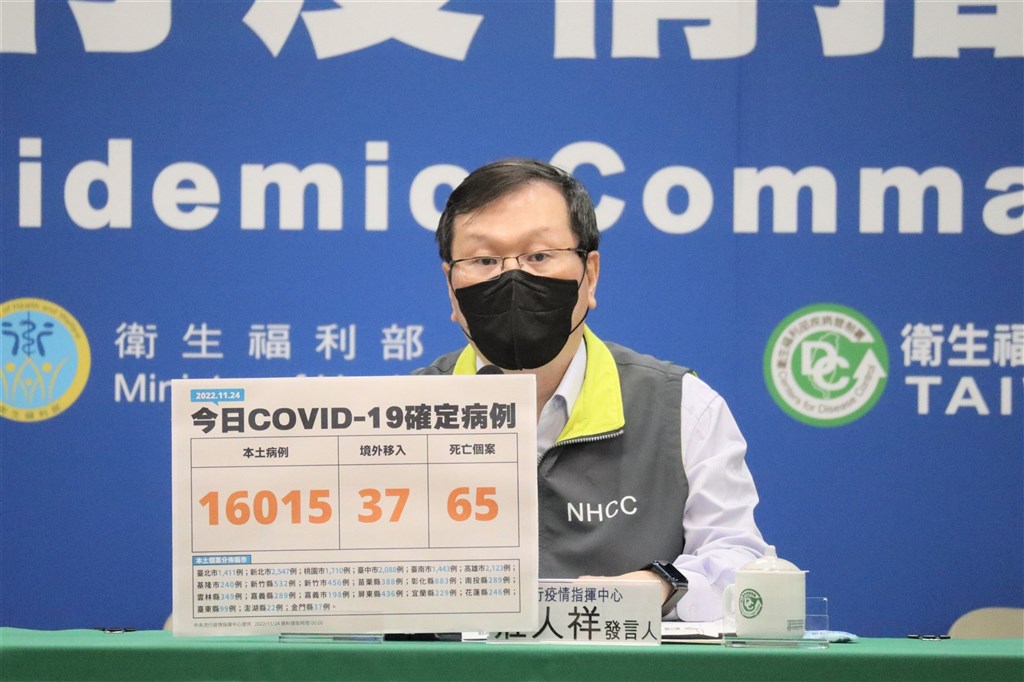 Taipei, Nov. 24 (CNA) Taiwan on Thursday reported 16,052 new COVID-19 infections, all but 37 of which were locally transmitted, and 65 deaths from the disease, according to the Central Epidemic Command Center (CECC).
The deceased ranged in age from their 50s to their 90s, and all but two had underlying health issues, while 31 of them were unvaccinated against COVID-19, the CECC said.
Severe, moderate infections
Also on Thursday, the CECC reported 79 new COVID-19 cases classified as moderate and 53 as severe, including two infections of multisystem inflammatory syndrome in children (MIS-C).
The two children with MIS-C were 6 months and 1 year old, respectively, and neither of them had any known underlying health conditions, the CECC said.
The two baby boys were hospitalized, but the 6-month-old has already been discharged, the CECC said.
Taiwan has recorded a total of 272 severe COVID-19 infections in children 12 years old and under, and 179 of them have had MIS-C, according to CECC data.
Meanwhile, the 16,015 new domestic cases on Thursday represented a 20.2-percent drop from a week earlier, the CECC said.
Regional breakdown
Regionally, New Taipei had the highest number of new cases Thursday, with 2,547, followed by Kaohsiung with 2,123 and Taichung with 2,088.
Taoyuan reported 1,710 cases, Tainan 1,443, Taipei 1,411, Changhua County 883, Hsinchu County 532, Hsinchu City 456, Pingtung County 436, Miaoli County 388, Yunlin County 349, Nantou County 289 and Chiayi County 289.
Hualien County had 246 cases, Keelung 240, Yilan County 229, Chiayi City 198, Taitung County 99, Kinmen 37 and Penghu County 22.
No new infections were reported in the Matsu Islands for the first time since April 18, the CECC said.
To date, Taiwan has recorded 8,226,995 COVID-19 cases since the pandemic began in early 2020, including 37,402 classified as imported.
With the 65 deaths reported Thursday, the total number of confirmed COVID-19 fatalities in the country rose to 14,125.
Related News
Nov. 22: New round of COVID-19 rapid test rationing to start Dec. 1
Nov. 18: COVID-19-positive voters risk 2 years in prison: CECC
Nov. 17: People should not wear masks with campaign signs to vote: official
Latest COVID-19 rules
● Taiwan cuts COVID isolation to 5 days, lifts workplace vaccine mandates (Nov. 14)
● Taiwan to further ease border rules for China, Hong Kong, Macau residents
● People with fever will be advised against taking high speed trains
● Taiwan's new COVID-19 regulations taking effect Nov. 7
● Taiwan lifts ban on international cruises
● Taiwan's updated COVID-19 protocols for arriving travelers from Oct. 13  
Recent cases
Nov. 23: Taiwan reports 17,892 new COVID cases, 31 deaths
Nov. 22: Taiwan reports 18,179 new COVID-19 cases, 38 deaths
Nov. 21: Taiwan's domestic COVID-19 cases drop to lowest in 207 days
Nov. 20: Taiwan reports 16,236 new COVID-19 cases, 43 deaths
Nov. 19: Taiwan reports 16,571 new COVID-19 cases, 59 deaths
Nov. 18: Taiwan reports 18,003 new COVID-19 cases, 58 deaths
Nov. 17: Taiwan reports 20,127 new COVID-19 cases, 77 deaths
View All