CORONAVIRUS
/
Taiwan reports 20,127 new COVID-19 cases, 77 deaths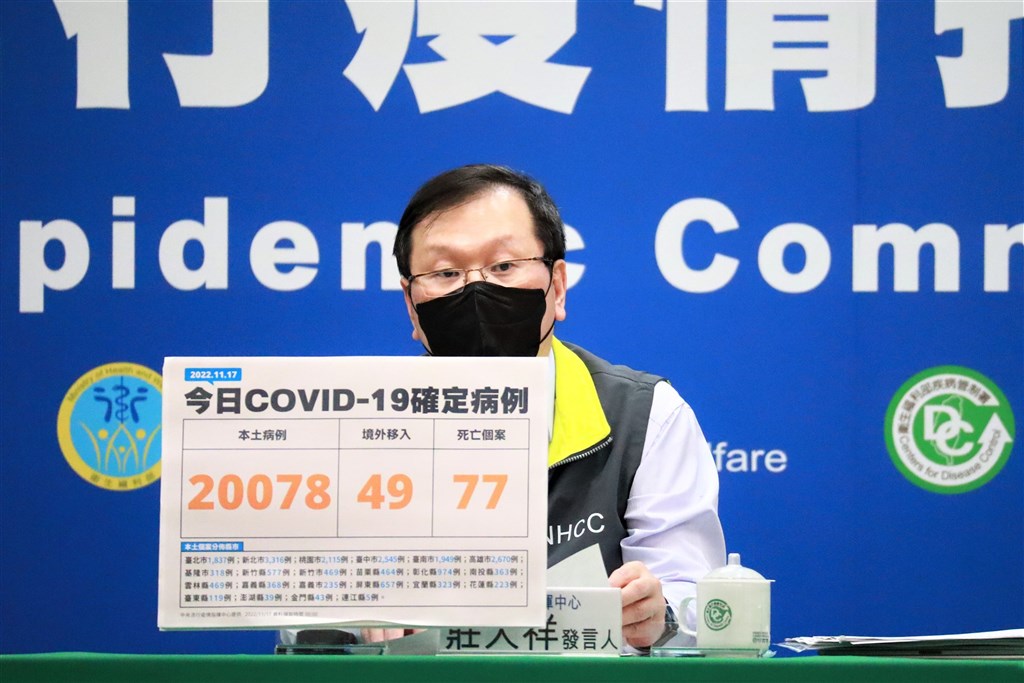 Taipei, Nov. 17 (CNA) Taiwan reported 20,127 new COVID-19 infections on Thursday, all but 49 of which were locally transmitted, and 77 deaths from the disease, according to the Central Epidemic Command Center (CECC).
The deceased ranged in age from their 40s to their 90s, and all but one had underlying health issues, while 48 were unvaccinated against COVID-19, the CECC said.
Meanwhile, the CECC also reported 78 new cases classified as moderate and 59 classified as severe, including a case of multisystem inflammatory syndrome in children (MIS-C) involving an unvaccinated 9-year-old boy, who had no known underlying health conditions.
The child has now been transferred from an intensive care unit to a general ward and is in stable condition, the CECC said.
It was the 174th case of MIS-C cases in Taiwan this year and the 264th severe case of COVID-19 in children aged 12 and under, the CECC said.
Meanwhile, it said, the 20,078 new domestic cases on Thursday represented a 9.9-percent drop from a week earlier.
Regional breakdown
New Taipei reported the highest number of new cases Thursday, with 3,316, followed by Kaohsiung with 2,670 and Taichung with 2,545.
Taoyuan reported 2,115 cases, Tainan 1,949, Taipei 1,837, Changhua County 974, Pingtung County 657, Hsinchu County 577, Yunlin County 469 and Hsinchu City 469.
Miaoli County had 464 cases, Chiayi County 368, Nantou County 363, Yilan County 323, Keelung 318, Chiayi City 235, Hualien County 223, Taitung County 119, Kinmen 43, Penghu 39 and the Matsu islands five, the CECC said.
To date, Taiwan has recorded 8,112,234 COVID-19 cases since the pandemic began in early 2020, including 37,113 classified as imported.
With the 77 deaths reported Thursday, the number of confirmed COVID-19 fatalities in the country rose to 13,791.
Related News
Nov. 16: No Medigen COVID vaccine available in Taiwan as last batch expires
Nov. 15: Taiwan adds 200,000 doses to government-funded flu vaccine program
Nov. 14: Taiwan to raise weekly arrival cap to 200,000 from next month: CECC
Nov. 9: Local governments to get updated Moderna COVID-19 vaccine from Nov. 18
Nov. 9: Outdoor mask mandate likely to be eased in November: CECC chief
Nov. 8: COVID patients breaking quarantine to vote can be fined up to NT$2m: CECC  
Latest COVID-19 rules
● Taiwan cuts COVID isolation to 5 days, lifts workplace vaccine mandates (Nov. 14)
● Taiwan to further ease border rules for China, Hong Kong, Macau residents
● People with fever will be advised against taking high speed trains
● Taiwan's new COVID-19 regulations taking effect Nov. 7
● Taiwan lifts ban on international cruises
● Taiwan's updated COVID-19 protocols for arriving travelers from Oct. 13  
Recent cases
Nov. 16: Taiwan reports 22,692 new COVID-19 cases, 69 deaths
Nov. 15: Taiwan reports 18,558 new COVID-19 cases, 43 deaths
Nov. 14: Taiwan reports 16,619 new COVID-19 cases, 40 deaths
Nov. 13: Taiwan reports 18,611 new COVID-19 cases, 61 deaths
Nov. 12: Taiwan reports 19,224 new COVID-19 cases, 60 deaths
Nov. 11: Taiwan reports 20,306 new COVID-19 cases, 62 deaths
Nov. 10: Taiwan reports 22,331 new COVID-19 cases, 66 deaths
View All