Passport applications surge since Taiwan announced end to quarantine
Taipei, Oct. 4 (CNA) The number of passport applications and renewals in Taiwan has soared since late September after the government announced that people arriving in the country would no longer need to quarantine on arrival from Oct. 13, the Ministry of Foreign Affairs (MOFA) said on Tuesday.
Chen Shang-yu (陳尚友), deputy head of MOFA's Bureau of Consular Affairs (BOCA), said that before the COVID-19 pandemic began in late 2019, BOCA had to process an average of 1.7 million passport applications per year. But since the pandemic struck, the figure has plunged to 300,000 a year, with the lowest number being 233,000 reported in 2021.
As the pandemic subsides, BOCA has so far processed 386,000 passport applications as of Sept. 30 for this year, with an average of around 3,000 applications per day, as people are beginning to resume normal overseas travel, with international travel starting to pick up again after many countries have done away with COVID-related restrictions, Chen said.
Since the government announced in late September that travelers to Taiwan would no longer be required to quarantine on arrival starting Oct. 13, application numbers have continued to increase substantially, according to Chen.
Daily applications increased to 4,800 on Sept. 26 before rising to 5,800 on Monday, with an average of 5,300 applications over the past week, Chen said.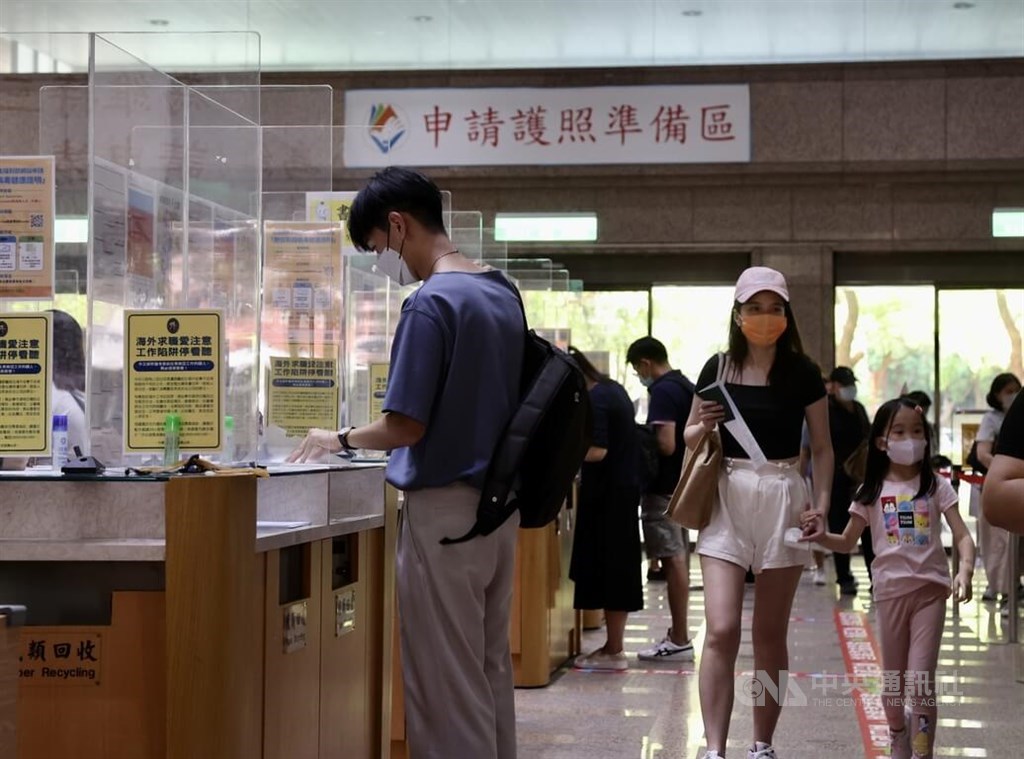 In anticipating the expected surge of passport applicants, Chen said BOCA had allocated more manpower to handle passport applications and renewals at its Taipei headquarters and three other MOFA branch offices across the country.
At peak hours, however, applicants may need to wait for an hour before receiving their new passports, according to Chen.
Chen called on passport applicants to take advantage of a new online passport application system launched in June to save time.
On a special website set up by the BOCA, users can fill out an application form, upload a passport photo, and schedule an appointment to pick up the new passport at a designated time so that people don't have to wait in long lines, he added.
Premier Su Tseng-chang (蘇貞昌) announced on Sept. 29 that travelers to Taiwan would no longer be required to quarantine on arrival, with effect from Oct. 13, while visitors from most countries, including all those whose citizens previously were allowed visa-free entry into Taiwan, would again be allowed to enter, but the number of arrivals will be capped at 150,000 per week.
Under the new "0+7" protocol, no quarantine will be mandated for visitors, but during the seven days of "self-initiated epidemic prevention," travelers will have to do a rapid test on the day of arrival or the next day.
Travelers will be allowed outside during the seven-day period as long as they obtain a negative COVID-19 rapid test result every two days, according to Cabinet spokesman Lo Ping-cheng (羅秉成).
Related News
Sept. 29: Taiwan to lift entry quarantine, reopen to all visitors Oct. 13 
Sept. 29: Travel agencies, hotels foresee sharp rise in revenue after borders reopen in October
Sept. 22: Airlines set to increase flights ahead of border control relaxation
Latest COVID-19 rules
Oct. 1: Taiwan drops vaccination requirement for outbound tour groups
Sept. 29: Taiwan's new COVID-19 protocols for arriving passengers
Sept. 8: Taiwan to ease COVID-19 in-person class suspension rules
Sept. 5: Taiwan to resume visa-free entry for multiple countries from Sept. 12
Sept. 1: Taiwan's new COVID-19 protcols, '3+4' policy taking effect Sept. 1