CORONAVIRUS
/
Taiwan reports 43,085 new COVID-19 cases, 48 deaths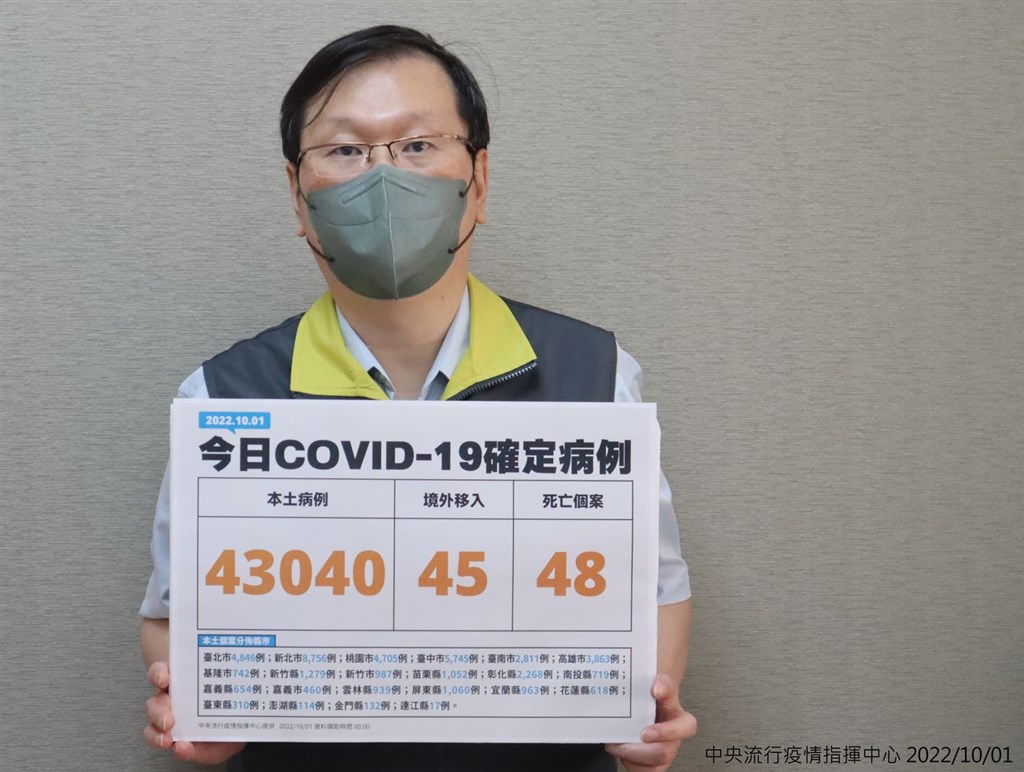 Taipei, Oct. 1 (CNA) Taiwan on Saturday reported 43,085 new COVID-19 infections, including 45 imported cases, and 48 deaths from the disease, according to the Central Epidemic Command Center (CECC).
The deceased ranged in age from their 40s to their 90s, and 44 of them had underlying health issues, the CECC said.
Twenty-one of them were not vaccinated against COVID-19, while seven had received one dose of a COVID-19 vaccine, two had gotten two shots, and 16 had received three doses, the CECC said.
The 48 newly recorded deaths brought the total in Taiwan to 11,101 since the pandemic began.
Severe COVID-19 cases
Meanwhile, the CECC reported 64 cases that were newly classified as severe, and 163 categorized as moderate.
CECC spokesperson Chuang Jen-hsiang (莊人祥) said the 43,040 domestic COVID-19 cases on Saturday were 12.8 percent higher than the 38,157 local cases recorded a week ago.
There were no new reported cases of multisystem inflammatory syndrome in children (MIS-C), Chuang said.
According to the latest CECC data, a total of 234 children in Taiwan under the age of 12 have developed severe illnesses after contracting COVID-19, including 151 MIS-C cases, 31 cases of brain inflammation (encephalitis), 25 with pneumonia, three with septicemia, and three with croup, among the various complications.
Regional breakdown
On Saturday, New Taipei reported the highest number of new cases regionally, with 8,756, while Taichung had 5,745, Taipei 4,846, Taoyuan 4,705, Kaohsiung 3,863 and Tainan 2,811, the CECC said in a statement.
Changhua County had 2,268 new cases, Hsinchu County 1,279, Pingtung County 1,060, Miaoli County 1,052, Hsinchu City 987, Yilan County 963, Yunlin County 939, Keelung 742, and Nantou County 719.
Chiayi County reported 654 cases, Hualien County 618, Chiayi City 460, Taitung County 310, Kinmen County 132, Penghu County 114, and the Matsu Islands 17, the CECC said.
To date, Taiwan has recorded 6,504,422 COVID-19 cases since the pandemic began in early 2020, including 34,908 classified as imported.
Latest COVID-19 rules
Oct. 1: Taiwan drops vaccination requirement for outbound tour groups
Sept. 29: Taiwan's new COVID-19 protocols for arriving passengers
Sept. 8: Taiwan to ease COVID-19 in-person class suspension rules
Sept. 5: Taiwan to resume visa-free entry for multiple countries from Sept. 12
Sept. 1: Taiwan's new COVID-19 protcols, '3+4' policy taking effect Sept. 1
Recent cases
Sept. 30: Taiwan reports 43,505 new COVID-19 cases, 50 deaths
Sept. 29: Taiwan reports 44,880 new COVID-19 cases, 53 deaths
Sept. 28: Taiwan reports 48,613 new COVID-19 cases, 38 deaths
Sept. 27: Taiwan reports 45,850 new COVID-19 cases, 28 deaths
Sept. 26: Taiwan reports 28,785 new COVID-19 cases, 56 deaths
Sept. 25: Taiwan reports 38,980 new COVID-19 cases, 34 deaths
View All