CORONAVIRUS
/
Taiwan reports 40,025 new COVID-19 cases, 41 deaths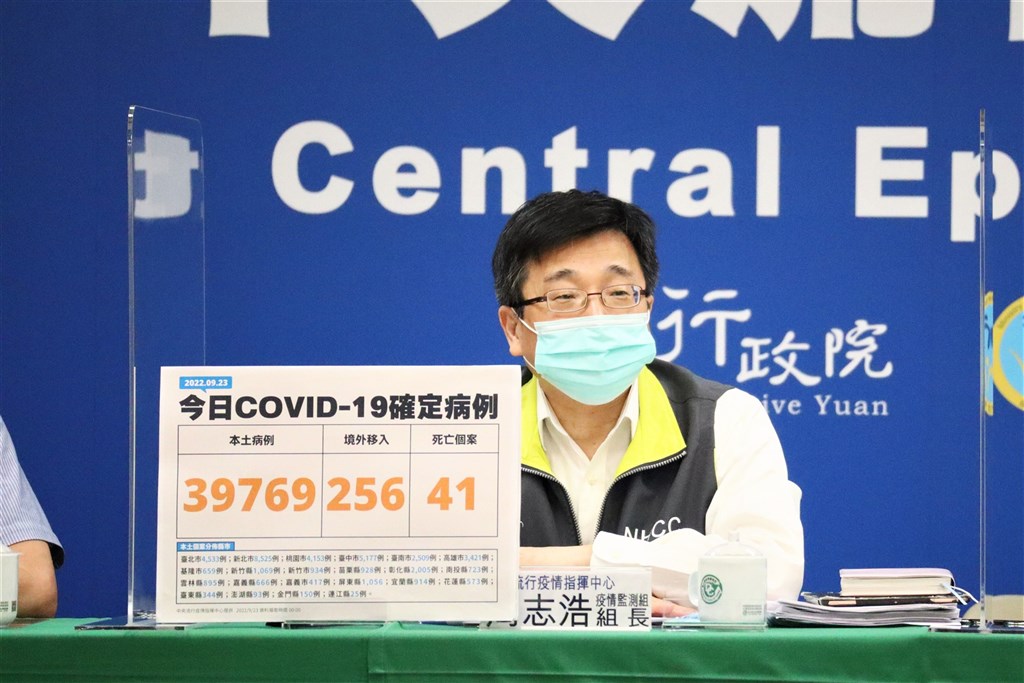 Taipei, Sept. 23 (CNA) Taiwan reported 40,025 new infections of COVID-19 and 41 deaths from the disease Friday, according to the Central Epidemic Command Center (CECC).
The 41 deaths, which brought the total in Taiwan since the pandemic began to 10,743, were among people in their 20s to 90s, and all but three had underlying health issues such as diabetes and cardiovascular diseases, the CECC said.
Fifteen of them were unvaccinated against COVID-19, while two had received one dose of a COVID-19 vaccine, 15 had gotten two shots, 15 had received three doses, and two had had four shots, the CECC data showed.
Also on Friday, the CECC reported 50 new cases classified as "severe" and 135 new cases classified as "moderate."
MIS-C cases
Among the severe cases were three boys, one with pneumonia and two with multisystem inflammatory syndrome in children (MIS-C), Centers for Disease Control (CDC) official Lo Yi-chun (羅一鈞) said.
● The 11-year-old boy with pneumonia had two vaccine shots and had no history of underlying health issues, Lo said.
He tested positive for COVID-19 using a rapid test after developing a fever and sore throat on Sept. 15, and was on medication while resting at home for the next two days, Lo said.
He started to have difficulty breathing on Sept. 17 and was rushed to a nearby hospital, where he was diagnosed with pneumonia in the right chest, hypoxia and respiratory acidosis, Lo said.
The young patient's condition improved after being treated with Remdesivir and steroids, but he is still in an ICU and on a respirator, Lo said.
● As for the two MIS-C cases, Lo said one patient was a 10-year-old boy, who contracted COVID-19 on July 4 and started developing a fever, diarrhea, nausea and poor appetite on Sept. 11. He was then hospitalized on Sept. 14 as the symptoms continued.
He was first diagnosed with acute gastroenteritis but was later classified as an MIS-C case after the doctor observed abnormal readings in the boy's liver function and inflammation tests, Lo said.
The boy was treated with immunoglobulin and has been in stable condition since but remains in the hospital under observation, Lo said.
● The other MIS-C case was a 15-year-old male who got three doses of a COVID-19 vaccine and had no history of underlying health issues, Lo said.
After having contracted COVID-19 on Aug. 8, the patient felt dizzy and began to cough and throw up on Sept. 16 while also developing a fever and a sore and itchy throat, Lo said.
The boy was sent to an emergency ward on Sept. 18 and was diagnosed with mycoplasma pneumonia and treated with an antibody. The fever persisted, however, and he was found to have an abnormally high inflammation, Lo said.
Regional breakdown
Regionally, New Taipei reported the highest number of new cases Friday, with 8,525, followed by Taichung with 5,177, Taipei with 4,533, Taoyuan with 4,153, Kaohsiung with 3,421, and Tainan with 2,509, the CECC said in a statement.
Changhua County had 2,005 new cases, Hsinchu County 1,069, Pingtung County 1,056, Hsinchu City 934, Miaoli County 928, Yilan County 914, Yunlin County 895, Nantou County 723, and Chiayi County 666.
Keelung had 659 cases, Hualien County 573, Chiayi City 417, Taitung County 344, Kinmen County 150, Penghu County 93, and the Matsu Islands 25, the CECC said.
To date, Taiwan has recorded 6,172,769 COVID-19 cases since the pandemic began in early 2020, including 33,361 cases classified as "imported" because they were deemed to have originated abroad.
Also on Friday
Sept. 23: Taiwan's mask mandate to be lifted gradually: CECC
Sept. 23: Taiwan to report to Legislature every 6 months on vaccine injury claims
Sept. 23: Travel agency predicts spike in travel to Japan when borders reopen
Sept. 23: Taiwan ban on tour groups to end under '0+7' policy: Minister
Latest COVID-19 rules
Sept. 29: Taiwan's new COVID-19 protocols for arriving passengers
Sept. 8: Taiwan to ease COVID-19 in-person class suspension rules
Sept. 5: Taiwan to resume visa-free entry for multiple countries from Sept. 12
Sept. 1: Taiwan's new COVID-19 protcols, '3+4' policy taking effect Sept. 1
Related News
Sept. 22: Taiwan receives second batch of Novavax vaccine
Sept. 20: CECC cautions of dual threat from COVID-19, flu this winter
Sept. 13: Japan to relax entry rules for Taiwan citizens from Sept. 14
Sept. 9: Girl to receive NT$3 million payout for adverse COVID vaccine reaction
Sept. 2: Taiwan grants EUA for 2nd-generation Moderna COVID-19 vaccine
Aug. 28: Taiwan begins rollout of Pfizer-BNT vaccines for young children
Aug. 24: Omicron subvariant-induced outbreak forecast to peak earlier: CECC
View All