CORONAVIRUS
/
Taiwan reports 41,430 new COVID-19 cases, 46 deaths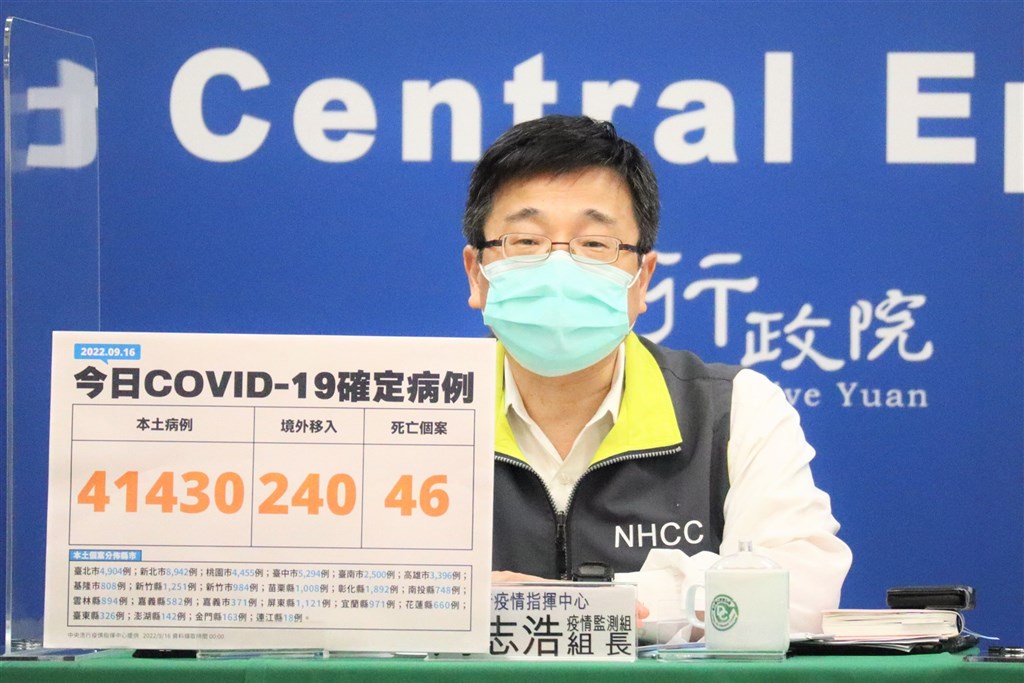 Taipei, Sept. 16 (CNA) Taiwan reported 46 deaths from COVID-19 and 41,430 new cases Friday, the fourth straight day in which there were more than 40,000 new COVID-19 cases, according to Central Epidemic Command Center (CECC) data.
The 46 deaths from COVID-19 brought the total number in Taiwan since the pandemic began to 10,469, according to CECC data.
The deceased ranged in age from their 30s to their 90s, and all had underlying health issues such as cancer and kidney-related diseases, CECC data showed.
Deaths, severe cases
At Friday's press briefing, Centers for Disease Control Deputy Director-General Lo Yi-chun (羅一鈞) said 22 of the deceased had not received any COVID-19 vaccine doses, and he urged people who had not gotten vaccinated to get at least one shot.
Of the other deaths reported Friday, two had received one dose of a COVID-19 vaccine, three had received two doses, 15 had received three doses, and four had received four doses, according to the CECC.
Lo said the youngest person to die among the 46 was a 30-year-old woman who had an immune disorder and had gotten two shots of a COVID-19 vaccine.
According to Lo, the woman contracted the disease in late August and had mild symptoms. She completed her seven-day quarantine as required, but had bloody stool and trouble catching her breath on Sept. 5.
She went to the hospital, where she tested positive for COVID-19 with a PCR (polymerase chain reaction) test, but suffered heart failure on her second day there, Lo said.
Also on Friday, the CECC reported 51 cases that were newly classified as severe and 127 cases newly classified as moderate.
MIS-C cases among kids
Among the severe cases was a 1-year-old boy who had no history of chronic disease, the CECC said.
The child developed a fever on Sept. 6, but tested negative twice for COVID-19 using rapid tests.
The youngster was nonetheless hospitalized on Sept. 9 when his symptoms persisted, and he was initially diagnosed with conjuctivitis and a swollen throat, the CECC said.
A hospital doctor later classified the young patient as a case of multisystem inflammatory syndrome in children (MIS-C) after detecting a rise in his inflammatory index, and the individual is now being observed in a general ward.
So far this week there have been seven young patients categorized as severe cases -- five diagnosed with MIS-C and one each with encephalitis and pneumonia -- bringing the total number of severe cases among children aged 12 and under since the pandemic began to 211, the CECC said.
All but one of the seven new cases this week, and 186 of the 211 cases to date, had not received any doses of a COVID-19 vaccnine, the CECC said.
Regional breakdown
Regionally, New Taipei reported the highest number of new cases Friday, with 8,942, followed by Taichung with 5,294, Taipei with 4,904, Taoyuan with 4,455, Kaohsiung with 3,396, and Tainan with 2,500, the CECC said in a statement.
Changhua County had 1,892 new cases, Hsinchu County 1,251, Pingtung County 1,121, Miaoli County 1,008, Hsinchu City 984, Yilan County 971, Yunlin County 894 and Keelung 808.
Nantou County had 748 cases, Hualien County 660, Chiayi County 582, Chiayi City 371, Taitung County 326, Kinmen County 163, Penghu County 142, and the Matsu Islands 18, the CECC said.
Taiwan has recorded 5,891,355 COVID-19 cases since the pandemic began in early 2020, including 31,726 cases classified as "imported" that originated abroad.
Related News
Sept. 15: Taiwan researchers find key to COVID-19-induced blood clots
Sept. 14: Taiwan researchers find possible key to encephalitis in child COVID cases
Sept. 13: Japan to relax entry rules for Taiwan citizens from Sept. 14
Sept. 9: Health Ministry expands eligibility for Chinese herbal COVID-19 drug
Sept. 2: Taiwan grants EUA for 2nd-generation Moderna COVID-19 vaccine
Aug. 28: Taiwan begins rollout of Pfizer-BNT vaccines for young children
Aug. 24: Omicron subvariant-induced outbreak forecast to peak earlier: CECC
Latest COVID-19 rules
Sept. 29: Taiwan's new COVID-19 protocols for arriving passengers
Sept. 8: Taiwan to ease COVID-19 in-person class suspension rules
Sept. 5: Taiwan to resume visa-free entry for multiple countries from Sept. 12
Sept. 1: Taiwan's new COVID-19 policies taking effect Sept. 1
Sept. 1: Taiwan's new COVID-19 screening rules for hospital admission
Recent cases
Sept. 15: Taiwan reports 45,470 new COVID-19 cases, 57 deaths 
Sept. 14: Daily number of new COVID-19 in Taiwan approaches 50,000
Sept. 13: Taiwan reports 47,051 new COVID-19 cases, 17 deaths
Sept. 12: Taiwan reports 25,583 new COVID-19 cases, 28 deaths
Sept. 11: Taiwan reports 32,128 new COVID-19 cases, 29 deaths
Sept. 10: Taiwan reports 32,128 new COVID-19 cases, 29 deaths
View All