CORONAVIRUS
/
Health expert urges people to get fully vaccinated amid COVID-19 surge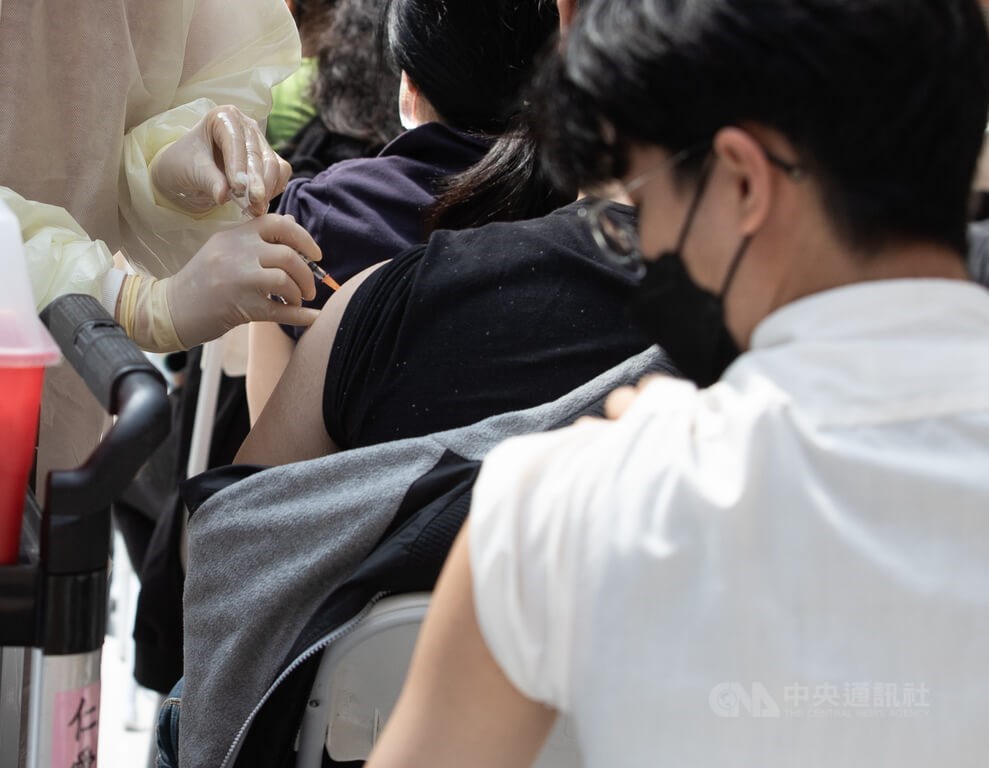 Taipei, Sept. 14 (CNA) There are around 3.2 million people in Taiwan who have not received two COVID-19 vaccine doses and they should do so as soon as possible amid a recent surge caused by the Omicron subvariants BA.4 and BA.5, a health expert said Wednesday.
Without getting fully vaccinated, the group could record 125 deaths per week, National Taiwan University College of Public Health professor Chen Hsiu-hsi (陳秀熙) said as part of a pandemic analysis during his weekly webcast.
Chen has urged those who have not yet had two vaccination shots to take existing vaccines rather than wait for Moderna's second-generation vaccine because initially the latter will only be used as a booster.
However, Chen also said the updated vaccine is more effective than the current ones as it cuts the severe infection rate by half.
Taiwan is set to take delivery of the updated vaccine, which targets both the original virus from 2020 and the Omicron subvariant BA.1, on Sept. 16.
The vulnerable group, of which 72 percent are aged between six months and 11 years, could see weekly fatalities fall to 53 if everyone gets fully vaccinated, Chen said.
If they all get a booster shot, he went on, the weekly death toll could fall to 19.
Meanwhile, for an additional 2.6 million people who have not taken a booster shot, weekly fatalities are forecast to be 51, he said, while doing so could bring that number down to 21.
Taiwan reported 49,708 new COVID-19 cases on Wednesday, the second day in a row the number of new cases has exceeded 40,000, according to the Central Epidemic Command Center (CECC).
The number of new cases was around 20 percent higher than a week earlier amid a surge in infections linked to the Omicron BA.5 variant of the coronavirus, it said.
It was also the third time Taiwan has had more than 40,000 new cases in a single day in September and the highest of the three days, almost hitting 50,000 cases, a single-day total not seen in Taiwan since June 22.
Related News
Sept. 14: Taiwan to receive updated Moderna vaccine Friday
Sept. 14: Taiwan researchers find possible key to encephalitis in child COVID cases
Sept. 8: Girl to receive NT$3 million payout for adverse COVID vaccine reaction
Sept. 8: Taiwan's ACIP head thinks it's time to end quarantine for arriving travelers
Sept. 2: Taiwan grants EUA for 2nd-generation Moderna COVID-19 vaccine
Aug. 28: Taiwan begins rollout of Pfizer-BNT vaccines for young children
Aug. 24: Omicron subvariant-induced outbreak forecast to peak earlier: CECC
Recent cases
Sept. 14: Daily number of new COVID-19 in Taiwan approaches 50,000
Sept. 13: Taiwan reports 47,051 new COVID-19 cases, 17 deaths
Sept. 12: Taiwan reports 25,583 new COVID-19 cases, 28 deaths
Sept. 11: Taiwan reports 32,128 new COVID-19 cases, 29 deaths
Sept. 10: Taiwan reports 32,128 new COVID-19 cases, 29 deaths
View All