Tropical Storm Nanmadol will not affect Taiwan: CWB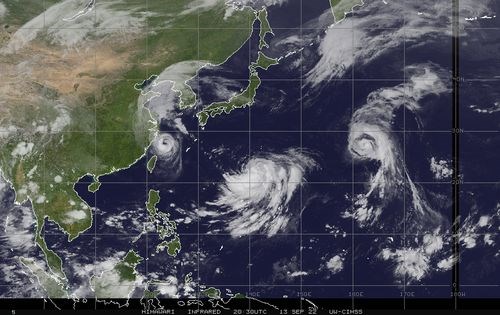 Taipei, Sept. 14 (CNA) The current path of Tropical Storm Nanmadol shows that it will not pose a threat to Taiwan in the coming days, the Central Weather Bureau (CWB) said Wednesday.
As of 8 a.m. Wednesday, the tropical storm was 1,880 km east of Taipei and packing maximum sustained winds of about 72 kilometers per hour near its center while generating winds of 54 kph within a 100 km radius, CWB data showed.
The CWB's forecast showed that it was moving in a northwest direction toward the Ryukyu Islands and would be about 1,780 km east of Taiwan at 2 a.m. Thursday morning, meaning it will not affect Taiwan anytime soon.
The websites of both the CWB and the Joint Typhoon Warning Center indicate that Nanmadol, which strengthened into a tropical storm early Wednesday morning, will eventually veer north and head toward the west coast of Kyushu, missing Taiwan altogether.
Meanwhile, as of 2 a.m. Wednesday, Typhoon Muifa was 330 km northeast of Taiwan and moving toward central China, having passed over waters north of Taipei, CWB data showed.
Gusty winds could still be seen, however, in areas along the north coast and the Hengchun Peninsula in the south, as well as on Orchid Island, the CWB said.
Meanwhile, coastal swells could still occur in areas north of Taoyuan, eastern Taiwan, including Green Island and Orchid Island, the Hengchun Peninsula, and Lienchiang County, it said.
Peng Chi-ming (彭啟明), meteorologist and CEO of WeatherRisk Explore Inc., said while Muifa was moving further away from Taiwan, some moisture remained that could bring sporadic rainfall to northern Taiwan on Wednesday.
He said, however, that sunny weather could be expected in the coming days.
Meanwhile, CWB Director-General Cheng Ming-dean (鄭明典) said there are three tropical cyclones currently in the Pacific Ocean: Muifa, Nanmadol, and Typhoon Merbok, which was about 4,070 km east of Taipei as of 2 a.m. Wednesday.
The last time there were three tropical cyclones at the same time in the Pacific Ocean was last year with tropical storms Lupi, Mirinae, and Nida, according to CWB data.
(By Chang Hsiung-feng and Sean Lin) enditem/ls